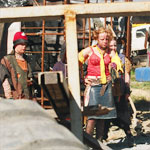 Extra's at the set.
Tribe 5 is into Week 5 of production and the shoot has started to rock and roll today! Let's catch up with what took place in week 4 of production.
Something was up on the streets last week…and lots of extras were seen at the set on Thursday.
Laura Wilson had the busiest day on Friday. Some of the cast members' had to attend a special photo shoot as well!!
The scenes
72 minutes of Tribe 5 was shot and 87 scenes were filmed between Monday and Friday.
The parallel unit was used twice last week and a few cast members had to be taken from one location to the other.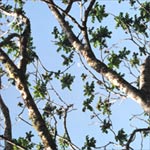 Sunshine!!!
The crew got lucky with
some sun shining at the outdoor shoots
The locations
Some interesting locations were used last week.
The location was the Whiteman's Valley road and farm. This location was used by the parallel unit with some of the new and old cast member's involved in the shoot.
Other Locations were Kenepuru Hospital and the Horton Bailey Hotel.
Both indoor set and outdoor location shoots took place last week. The outdoor shoots were well timed and the crew was all ready to catch the sunshine!
Make a start!
The earliest crew call this week was at 5.20am for the Unit, who set up an early breakfast at an outdoor location.
Crew call for everyone else this week ranged from 6.45am to 8.30am.
The earliest pick up for our cast was 5.15am for the special anonymous cast member!!
The weather
The El Nino period that causes strong winds had arrived early last week. We saw some heavy rain and cold winds. Most of the shoots were held indoors early in the week, which did not disrupt the schedule. Sunshine was on its was by Thursday!
The record of the weather for the 4th week of production were:
| | |
| --- | --- |
| Monday 18th November | Showers becoming scattered with fine periods increasing |
| Tuesday 19th November | Showery with strong cold southerly winds |
| Wednesday 20th November | Showers clearing and becoming fine with southerly winds |
| Thursday 21th November | Showers clearing and becoming fine with southerly winds dying out. |
| Friday 22nd November | A few morning showers then becoming fine wit brisk southerly dying out. |
Next week, join us for another fresh location report from the series 5!
Stay Tribal!
Keep the Dream Alive…