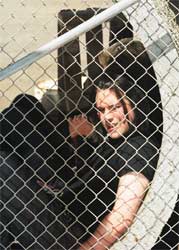 Is Lex behind bars by choice or not?
Tribe 5 is into week 4 of production from Monday 18th November 2002 – BUT what happened last week in the production?
You'll find out below!!
It was a pretty busy week last week with almost all cast on including the two babies, Brady and Baby Bray.
The scenes
82 scenes were filmed from Monday to Friday this week, and this totalled over 109 minutes of shooting time.
The parallel unit was used twice last week to pick up some scenes and a special shoot took place on Wednesday which had some of the cast in fits of laughter.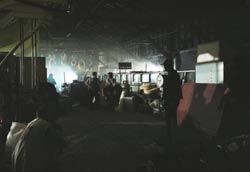 Where is this dark and gloomy place?
The locations
Locations last week included Hutt Park Railyards, Kaitoke Regional Park and Hutt Valley High School.
There's a special new set that's been built out at Kaitoke but we can't give too much away. This set was used on Wednesday and 36 extras were used for various roles including some prisoners.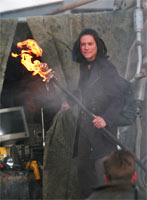 Make a start!
The earliest crew call this week was for the Unit who started at 5.35am to get breakfast ready for everyone at Kaitoke. Crew call for everyone else this week ranged from 7.00am to 8.00am. The earliest pick up for our cast was 5.20am for Meryl and Monique Cassie.
The weather
Although we had quite a pleasant week weather wise, according to the Met Service we're going through an El Nino period that causes strong winds which in turn are blowing through lots of rain.
Here's the record of the weather in week 3 of the production:
| | |
| --- | --- |
| Monday 11th November | Cloudy periods with the odd shower and strong northwesterly winds |
| Tuesday 12th November | Showers slowing clearing with southerly winds easing |
| Wednesday 13th November | Becoming fine with southerly winds dying out |
| Thursday 14th November | Fine with northerly winds developing |
| Friday 15th November | Cloudy periods with brisk northerly winds |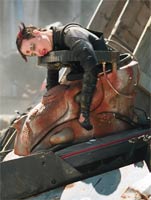 Join us next week for another location report.
Stay Tribal!
Keep the Dream Alive…