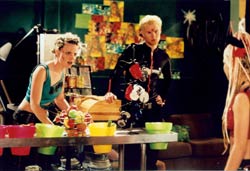 Tribe 5 is into week 3 of production from Monday 11th November 2002 – BUT what happened last week in the production?
You'll find out below!!
We were lucky enough to catch some filming last week because they were filming right outside our office! The scenes we saw had quite a few extras and a three way confrontation with Jay, Ebony and Amber…
The scenes
107 scenes were filmed from Monday to Friday this week, and this totalled over 133 minutes of shooting time.
Both units were working for 4 days with the Main unit working alone on Wednesday. So it was an extremely busy week for both cast and crew and with two units it made it possible to shoot the 107 scenes!
Is Lex in trouble again??
The locations
Locations last week included the Petone Museum, Whiteman's Valley backlot, Cloud 9 grounds, and Kenepuru Hospital.
A lot of scenes were shot this week at the Horton Bailey Hotel which is of course the Techno's headquarters. The foyer of of Cloud 9 Studios was made into a huge interior set of the hotel and eight main cast were used in the scenes.
Make a start!
The earliest crew call this week was for the Unit who started at 5.50am to get breakfast ready for everyone.
Crew call for everyone else this week ranged from 7.00am to 10.15am.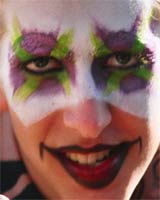 Who's this joker?
The earliest pick up for our cast was 5.45am for Michael Wesley Smith for the second week in a row. But there weren't too many early starts last week which gave the cast a little extra lie in.
There was a night shoot on Wednesday so the crew started late at 10.15am and finished up at 9.00pm.
The weather
The week was fairly fine and the rain held off most days. The winds are still strong but not too much chaos this week because of them!
Here's the record of the weather in week 2 of the production:
| | |
| --- | --- |
| Monday 4th November | Cloudy with late rain and northwest winds becoming strong |
| Tuesday 5th November | Rain with strong to gale force northwest winds |
| Wednesday 6th November | Mainly fine with strong northwesterly winds |
| Thursday 7th November | Fine with brisk northwest winds |
| Friday 8th November | Becoming fine with southerly winds dying out and northerly winds developing |
Join us next week for another location report.
Stay Tribal!
Keep the Dream Alive…