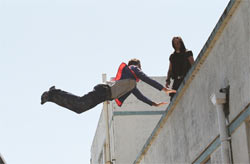 Jack can fly!
Tribe 5 is into the last week of production from Monday 24th February 2003 – …. BUT what happened last week during filming of Tribe 5?
You'll find out below!!
Only two weeks left of filming for Tribe 5! Episode 250 has now been filmed and last Thursday a celebration was held in it's honour including a scrapbook of emails, letters and pictures from fans around the world sent in especially for the 250th episode was presented to Raymond Thompson.
The scenes
101 scenes were filmed from Monday to Friday last week, and this totalled over 101 minutes of shooting time.
The parallel unit were on only two days last week.
The last scene of the series was shot on Friday with safety people everywhere and the most exciting ending yet!!
The locations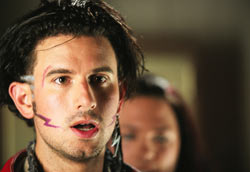 Something's spooked Slade…
Monday filming took place at the studio.
Tuesday they filmed at both studios.
Wednesday they were at the studio.
Thursday filming was at both the studios.
Friday filming took place at a secret location in central Wellington.
Make a start!
The earliest crew call this week was 7.30am.
The earliest pick up for our cast was 5.35am for Michael Wesley Smith (Jack).
The weather
Not the best weather last week but the filming was mostly inside so it didn't matter!
Here's the record of the weather in week 15 of the production:
| | |
| --- | --- |
| Monday 17th February | Cloudy periods with northerlies |
| Tuesday 18th February | Cloudy with some late rain |
| Wednesday 19th February | Becoming fine with northerlies |
| Thursday 20thFebruary | Cloud with fine breaks with afternoon showers |
| Friday 21st February | Showery and cool with southerlies freshening |
Join us next week!
Stay Tribal and Keep the Dream Alive…