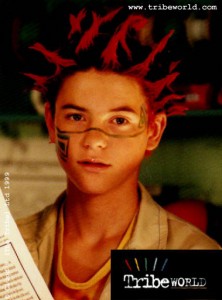 We now have a date and time for the live cast chat featuring Michael Wesley-Smith (JACK)! 😀
This is going to take place on Sunday 28th August at 8 pm NZ time and will happen on The Tribe's Official Facebook page (the TTO team will start a main Q & A thread on the Wall when the live chat happens so questions can be posted and Michael will try and answer as many as he can).
Note that the live chat should be at the following timezones:
London UK time: 9 am UK time on Sunday 28th August
Berlin Germany CEST: 10 am on Sunday 28th August
Sydney, Australia: 6 pm in Sydney on Sun 28th August
New York time: 4 am in New York early the morning of Sun 28th August
We would suggest checking a site like http://timeanddate.com/worldclock/ to see when 8 pm NZ time on Sun 28 August will be in your timezone
Michael and his character, Jack, have always been hugely popular on previous cast chats that have taken place on Tribeworld.com and we're looking forward to this next one very much – thanks to Michael for taking the time to chat!
If you are unable to make it to the chat, you can post some questions in advance on the official Tribe Facebook page
Like always, after the event there will be a transcript of the chat posted on Tribeworld.com 🙂