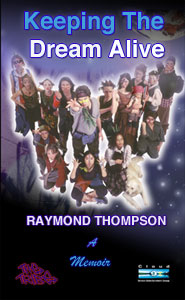 UPDATED Dec 13th 2011 – it is now no longer possible to order the collector's edition version of this book (which is autographed) – but the GENERAL RELEASE version is now available!
Below is an archive version of when the limited edition collector's edition version used to be available…
Exclusive!  It's official!  For Facebook friends and fans and users of Tribeworld.com we are thrilled to advise that the book 'Keeping The Dream Alive' by Raymond Thompson is now available as an exclusive pre-release (prior to official release on December 1st 2011).
If you would like to obtain your very special pre-release copy, autographed by Raymond Thompson, then you can order a book direct from Tribeworld.com.
Or for further details email contact@entercloud9.com
For those preferring an e-book or audiobook version then this will also be available December 1st (i.e. from outlets like Amazon's Kindle book readers, Apple's iBooks and various audiobook outlets).
More information about this informative book, details are here.
We'll have more updated information the Tribe novels (including the official story of what happened after series 5) in the near future…