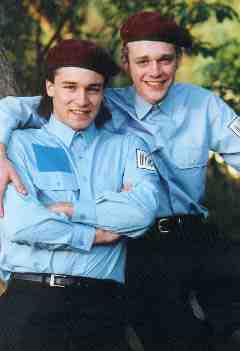 Fan Club Member Only Competition!
Here's your chance to enter a short story competition and be in with the chance to win a great Tribe prize pack!
All entries will be put up in a March edition of the newsletter.
10 shortlisted winners will each receive a special signed congratulations card as well as 3 signed cast postcards!
The first prize is a Tribal goodie pack stuffed full of Tribal merchandise as well as a congratulatory card and a Mall Rats book signed by Raymond Thompson.
To enter all you have to do is send in your short story with your membership number to shortstorycomp@entercloud9.com
Stories must be between 1000 and 1500 words.
Stories must be written in English.
Stories must be your original work.
The theme of the story must be Pre-Tribe with at least one existing Tribe character involved.
Stories containing sex themes, swear words, derogatory terms or discrimination will be withdrawn from the competition at the judge's discretion.
Judges will be Emily Willard Internet Coordinator, Saranne James Tribe Writer, James Champion Tribe Writer and Brigid Pierce Tribe Fan Club.
The overall winner from the shortlist of 5 stories will be chosen by Raymond Thompson himself, creator and Executive Producer of The Tribe.
The judges's decision is final. All stories must be received by noon 20th February 2004 NZ time.
Winners will be notified on 5th March 2004.
Good luck!