Tribe Fanclub Emails – Update
The Tribe Fanclub computer is still having hassles at the moment so anyone sending any emails to the Tribe Fanclub and anyone who is trying to join the fanclub will not be able to at present. We ask that you put off sending your email for the next few days and we will let you know (here in the news) when the system will be up and running again.
We're sorry for the inconvenience.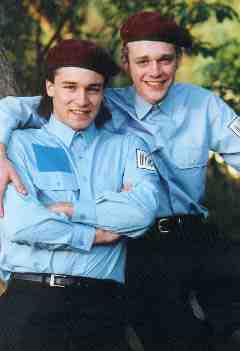 Fan Club Member Only Competition!
Here's your chance to enter a short story competition and be in with the chance to win a great Tribe prize pack!
All entries will be put up in a March edition of the newsletter.
10 shortlisted winners will each receive a special signed congratulations card as well as 3 signed cast postcards!
The first prize is a Tribal goodie pack stuffed full of Tribal merchandise as well as a congratulatory card and a Mall Rats book signed by Raymond Thompson.
To enter all you have to do is send in your short story with your membership number to shortstorycomp@entercloud9.com
Stories must be between 1000 and 1500 words.
Stories must be written in English.
Stories must be your original work.
The theme of the story must be Pre-Tribe with at least one existing Tribe character involved.
Stories containing sex themes, swear words, derogatory terms or discrimination will be withdrawn from the competition at the judge's discretion.
Judges will be Emily Willard Internet Coordinator, Saranne James Tribe Writer, James Champion Tribe Writer and Brigid Pierce Tribe Fan Club.
The overall winner from the shortlist of 5 stories will be chosen by Raymond Thompson himself, creator and Executive Producer of The Tribe.
The judges's decision is final. All stories must be received by noon 20th February 2004 NZ time.
Winners will be notified on 5th March 2004.
Good luck!
Caption Competition!
Look out Tribe Fans! There's a new section coming to Tribeworld soon! We're opening up a Caption Competition section that gives you the chance to think of a funny caption to the photo we pick from our enormous amount of photos.
We'll have more details soon!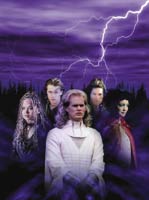 Animation
Cloud 9 will be opening an animation division of the company called "Dreamcloud" – this will bring all sorts of exciting new features to Cloud 9's already impressive portfolio and details of Dreamcloud's first production will be announced shortly. Take a look at the new website http://www.dreamcloud.tv
Series 2 on DVD
The second series of the Tribe is due to be released as a DVD and VHS boxset soon. The graphics have been locked off and production of the discs, etc. will be taking place in the next couple of months.
We will let you know a release date as soon as we know it ourselves and will also let you know if it will be available in NTSC format for North America – we are doing our best and will address that issue with the distribution team.