Series 2 released on DVD
The second series of the Tribe is due to be released as a DVD and VHS boxset later in the year.
We have now been given a date of the release – 20th August 2004! The DVD and VHS sets will be available from Amazon and all good retail outlets throughout the UK and Europe.
We'll let you know soon what "extras" you can expect in this latest DVD set.
Fanclub Competition Winners!
Thank you to all fanclub members who sent us in their short stories for the competition. We have been overwhelmed with the level of interest and quality displayed in the short story submissions. This has been extremely difficult to judge especially given the diversity of ages and backgrounds of our Tribe fans. In judging an international contest in which many participants wrote in a secondary language, we had to take a number of factors into consideration and tried to make as fair decisions as we could.
10 shortlisted winners will each receive a special signed congratulations card as well as 3 signed cast postcards!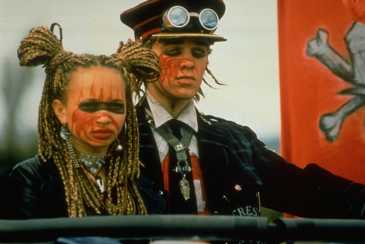 The first prize is a Tribal goodie pack stuffed full of Tribal merchandise as well as a congratulatory card and a Mall Rats book signed by Raymond Thompson.
Congratulations to the following group of winners and finalists – you have all been sent a congratulatory email:
And the winners are:
Winner – "Transformation" by Lorene Kunschman (19, USA)
1st Runner up – "White Flag" by Jessica Howard (20, USA)
2nd Runner up – "4 Minute Warning" – by Sarah Manning (14, UK)
3rd Runner up – "Visions of a Broken Future" – By Chloe Thomas (16, Wales)

Other finalists:
"Set Adrift on Memory Bliss" – by Melanie Bishop (21, Canada)
"Walking into the Future Blind" – by Lizzie Caperon (14, UK)
"As Long as I Live" – By Paula Chamas (17, Spain)
"Childhood Memories" – By Alicia Giacin (31, USA)
"Sisters" – By Sherry Hopper (21, USA)
"Chaos & Power" – By Rachel Mincey (27, USA)
These stories have been published in the latest Tribe Fanclub Online Newsletter for everyone to enjoy.
Until next week,
Stay Tribal and Keep the Dream Alive…