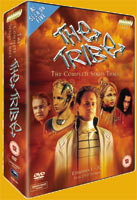 One week to go. The Tribe Series 3 – Released on DVD!
Series 3 is set to be released on 22nd May 2006. Only 1 week to go! Series 3 is full of exciting storylines – here's a sneak peak:
The first day dawns on the age of Zoot. The Mall Rats are starving because they refuse to obey Zoot's laws as set by the Guardian. Tai-San's rejection of the new rules means there is no food for anyone. Rumours abound about the deaths of Lex and Bray following a buggy accident and panic and instability ensue. When the wreckage is examined by the Guardian's Lieutenant Luke, the bodies have disappeared – what has become of Lex and Bray?
Newcomer Pride explains how his tribe live in harmony with the animal world under the leadership of the enigmatic Eagle – but what is her real identity?
The epic story of The Tribe continues as they battle to survive the harsh world, and each other.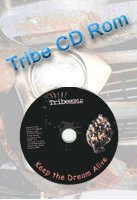 A 7 disc set with all 52 episodes. This DVD set also includes the bonus extra – The Tribe Summer Tour 2003.
There are also tentative dates for the release of Series 4 and 5 – August (series 4) and November for series five. Although these dates could change.
Online Tribe Store!
Everyone wants a piece of The Tribe and we are pleased to announce that the official online store is now up and running on TheTribe.tv website!
Come and shop at The Mall, where there is something for everyone. And the best thing is – The Mall never closes…
Exclusive Tribe merchandise and a chance to become part of history all form part of The Mall. Plus fanclub members get a 10% discount! Visit The Mall now!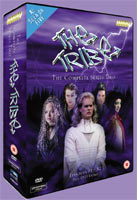 Tribe Series 2 DVD Released!
The Tribe Series 2 was released on DVD on 27th February! Already it has climbed high on the charts of Amazon's best sellers – reaching the top 100 in the first week! The Tribe Series 1 has also been re-released so it's a great time to get both series!
The Tribe Series 1 DVD* Seven Disks ~ All 52 Episodes
* The Making Of…. Featurette
* The Tribe On Tour
* Tribe Bloopers 1
* Character Profiles
The Tribe Series 2 DVD* Seven Disks ~ All 52 Episodes
* The Tribe On Tour 2003
* Tribe Bloopers 2
* New Character Biographies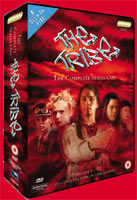 • Region 2 encoding (Europe, Japan, South Africa and the Middle East including Egypt).
• Box set, Dubbed, PAL
• Number of discs: 7
• Aspect Ratio: 16:9 Wide Screen
• Available Audio Tracks: Dolby Digital
• Main Language: English
• Dubbed Language(s): French, German
You can order your copies now from Amazon.co.uk , Play.com or Revelation Films
DVD Releases
We've had many fans asking when the Tribe DVD's will be available in the USA and The Netherlands. Each territory negotiates it's own distribution deal. Our distributors are in discussions with other territories around the world but at this stage we have no new details on releases in other countries. Of course, as soon as we hear anything we will let you all know.
The Tribe in America!
The Tribe series has gone into syndication in America! This means that the series is going directly to local stations for broadcast. The Tribe is now screening all over America. Click here to visit the USA website and find out which station is broadcasting near you. The USA site is full of series one information – http://www.thetribe.tv
There is also a brand new Tribe Fanclub! With lots of exclusive information for fanclub members!
** A dedicated member's area of the website (full of exclusive details about the cast and the show!) You'll have to join to log in!
** A dedicated member's only area of the bulletin board – a password will be required to enter
** Exclusive competitions for fan club members only – which means exclusive prizes too!
** A quarterly newsletter
** Advance news of special events and merchandise
** A 10% discount on Tribe Merchandise
** Exclusive chats with the cast member's in the fan club member's only section of the Bulletin Board
** Exclusive auctions for fan club members to buy props, costumes and memorabilia from the show
** Access to unique merchandise not available anywhere else
Some of the archives of Tribeworld.com have been closed off as this information will gradually be introduced to thetribe.tv website. Plus we'll be adding exclusive never before seen articles and photos to thetribe.tv for all the long time fans so that there is something new for everyone – so join up now – don't miss out!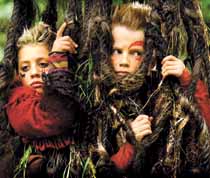 The New Tomorrow
Cloud 9's latest series The New Tomorrow is screening in Australia and the United Kingdom and there has been lots of great feedback from the viewers!
The New Tomorrow is currently being repeated Monday through Friday on Seven in Australia from 4.00pm-4.30pm. If you missed an episode here's your chance to see it!
You can also catch The Tribe in Australia on ABC2 Digital every week night at 6.30pm.
Visit the official website and find out about this fantastic new series! http://www.thenewtomorrow.net
Stay Tribal and Keep the Dream Alive…