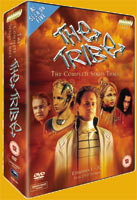 The Tribe Series 3 – Released on DVD!
Series 3 is set to be released on 22nd May 2006! That's only a month away! Series 3 is is full of exciting storylines.
The first day dawns on the age of Zoot. The Mall Rats are starving because they refuse to obey Zoot's laws. Tai-San's rejection of the new rules means there is no food for anyone. Rumours abound about the deaths of Lex and Bray following a buggy accident and panic and instability ensue. When the wreckage is examined by the Guardian's Lieutenant Luke, the bodies have disappeared – what has become of Lex and Bray?
Newcomer Pride explains how his tribe live in harmony with the animal world under the leadership of the enigmatic Eagle – but what is her real identity?
The epic story of The Tribe continues as they battle to survive the harsh world, and each other.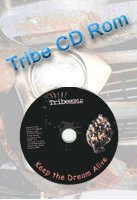 A 7 disc set with all 52 episodes. This DVD set also includes the bonus extra – Tribe Summer Tour 2003.
There are also tentative dates for the release of Series 4 and 5 – August (series 4) and November for series five. Although these dates could change.
Online Tribe Store!
Everyone wants a piece of The Tribe and we are pleased to announce that the official online store is now up and running on TheTribe.tv website!
Come and shop at The Mall, where there is something for everyone (even Locos!). And the best thing is – The Mall never closes…
Exclusive Tribe merchandise and a chance to become part of history all form part of The Mall PLUS Fanclub members get a 10% discount! Visit The Mall now!