Tribe 5 on WAM!
WAM! answers fan demands with 24-hours of "Tribe"-mania as the channel kicks-off the premiere of season five with a Labor Day marathon. The marathon will feature new episodes from season five of "The Tribe" as well as a replay of season four episodes. In addition, behind-the-scenes footage, cast interviews and music videos from "The Tribe" will be shown.
"The Tribe" marathon begins on Sunday, September 5th at 7:00 p.m. (ET/PT) and runs through Labor Day with the premiere of season five at 9:00 p.m. "The Tribe" season five will begin its regular primetime schedule on Friday, September 10th at 8:00 p.m. and 8:30 p.m.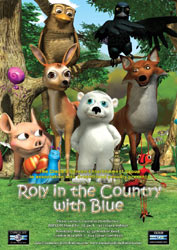 Survivor Star to narrate new series
Rupert Boneham became famous in the all American tv show Survivor earlier this year. Rupert was one of the cast aways on the Pearl Islands season. Although Rupert came 8th in the reality show he had become number 1 in the hearts of the fans of the show. After "Survivor All Stars", "Survivor: America's Tribal Council" was held to find out the audiences favourite survivor and Rupert Boneham took out the title winning the peoples vote and the prize money.
Cloud 9 is pleased to announce that Rupert Boneham has been contracted to do the voice as the narrator of Dreamcloud's (Cloud 9's animations division) television production of Roly in the Country with Blue which will be shown at the Mipcom Television Festival.
Roly in the Country with Blue is an animated pre school series targeting 4-6 year olds. Roly, a vulnerable polar bear cub and his friend Blue, a sassy young snail, arrive from over the hill and interact with a range of colourful and lovable farm animals in this unique 3D animation series which will educate, inspire and entertain.
Roly in the Country with Blue will be broadcast in 2005