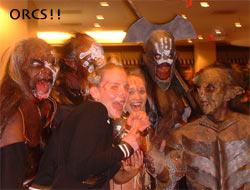 Exclusive Dragon*Con Fanclub Member Only Competition!
We are delighted to announce a very special competition that could see you meet the cast of The Tribe who will be appearing in Atlanta for DragonCon 2004 !
DragonCon is a huge event that takes place in 2 top Atlanta hotels over a 4 day period, the Labor Day weekend in the USA. The convention is attended by over 20,000 fans of sci fi and fantasy and is a sight you have to see to believe!
Imagine a hotel lobby full of StormTroopers and Orks. Throw in a few kilted pipers with dragons on their shoulders, a couple of green men and several cloaked figures and you're at the tip of the iceberg.
Now imagine your favourite actors from all sorts of film and TV shows, including Danny James (Zoot), Tori Spence (Salene) and Matt Robinson (Slade). You're getting warmer!
Add to this mixture all night drumming sessions, masquerade contests, live performances by some amazing bands, autograph sessions, a hall full of merchandise from dragons to Lord of the Rings to War Hammer to anime games and videos and you will have an even better idea of what DragonCon is like.
The convention is in its 18th year and has a loyal band of volunteers that run the event. Security is excellent, fans are just happy to be there and the general atmosphere is electric.
You can be who you want to be at DragonCon and you are bound to meet up with like minded fans who you will keep in touch with for years to come.
Check out the awesome DragonCon website to find out more as well as the 2004 Tribe Track site where you can see all things tribal at the convention.
So, what do I win?
The folks at DragonCon have offered us 2 four day passes to the convention! Yes, the lucky competition winner will receive two fully paid four day passes! This pass gets you into the convention and all of the events. In addition you will win 2 tickets to the Gala Awards banquet where you will get to sit at a table with Danny, Tori and Matt as well as the lovely Emily Willard, Internet Co-Ordinator for Cloud 9.
You will also receive a Cloud 9 goodie bag, 2 Tribe T-shirts to wear with pride at the event and a copy of last year's Cloud 9 DragonCon tour video.

**Please note that the winner is responsible to book and pay for their own flights to and from Atlanta Georgia, hotel accommodation, all food and sundries (other than the meal at the Gala Wards dinner as mentioned), all associated visa and passport costs and all other transport.

How do I win?
We realise that the convention is fast approaching so we will make this competition short and sweet.
You MUST be an official Fan Club member to enter.
Please send the answer AND your membership number to:– dragoncon@entercloud9.com
Closing date for entries:– Noon (NZ time) Tuesday 17th August 2004
Question:- What year was DragonCon launched?