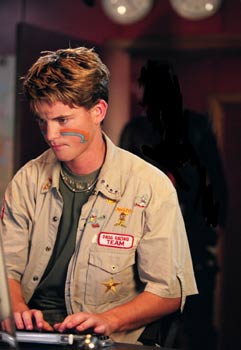 Cast visit the Hexagon
We had several visitors in the Hexagon this week.
Antonia popped in and she was still full of a cold. She had lost her voice for a couple of days and so had a bit of a quiet birthday last week! But she had come in to do some ADR work and was hoping that her voice would hold out!
Michael came to say hi. He is on a break from Uni at the moment and was glad to be back home to visit his family and friends in Wellington. He is loving Uni and is a good student (as well as a socialiser!)
Calen ran through and he had enjoyed his birthday by having a dinner with friends.
Dragon*Con
Things are hotting up and we are busy getting everything together for this huge event. Don't forget to check out theWAM! and Dragon*Con sites for further information. You could even win a comp where you can meet the cast and hang out for the day! This sweepstakes gives a WAM! fan a chance to win a VIP trip for two to meet The Tribe cast during its exclusive North American appearance.
Another country airs The Tribe!
Hmmm, there are rumours going around that The Tribe will soon be screening in a new place and there might even be a special appearance made at the launch by some of the cast members.
We will be confirming and announcing very soon so watch this space.
Fanclub Competition!
Yes, we are going to be running another special competition which will be announced next week so stay tuned. Details coming via a Fan Club email on Monday. Check your inbox!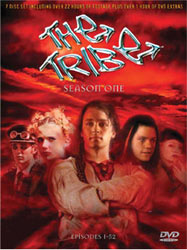 Tribe DVD / VHS
The Tribe Series 1 DVD's and Video's are selling fantasticly well!!
The DVD's and VHS's as well as having the entire first series also include special features such as The Making of The Tribe, Tribe on Tour 2002 and the first Bloopers video.
You can find them in all good retail outlets as well as at www.amazon.co.uk
There are plans to release Series 2 in the future and we'll let you know details as soon as we have them.