Christmas Competition!
Over the break we asked you to enter our Christmas Competition and write either a Pre-Tribe story or a Worldview article. There have been some great entries! So congratulations to the following winners:
First prize – Josephine Ryer – for her Worldview on The Virus
Second prize – Anne Feliksik – for her Pre-Tribe on Ruby
Third prize – Christina Gruenewald – for her Worldview on Different Ways of Life and How They Influence our Actions
Congratulations to you all! Your articles will be put up on Tribeworld over the next few weeks! Your prizes will be in the mail shortly.
First prize – Power and Chaos book, Tribe stickers, Tribe address book, Power and Chaos badge, CD Single of Abe Messiah and You Belong to Me, a Tribe Tour video, plus a set of T4/T5 postcards and an autographed postcard!
Second and Third Prize – T4/T5 postcard set, Tribe stickers, Power & Chaos badge, plus an autographed postcard!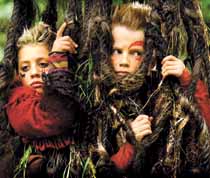 The New Tomorrow
Cloud 9's latest series The New Tomorrow is screening in Australia and the United Kingdom and there's lots of great feedback from the viewers!
You can catch The New Tomorrow on Seven in Australia every Saturday from 11.00-12.00pm and on FIVE in the UK every Sunday at 11.05am! Don't miss it!
Visit the official website and find out about this fantastic new series! http://www.thenewtomorrow.net
Stay Tribal and Keep the Dream Alive…