Welcome 2006!
Well the new year has started and we hope you all had a lovely Christmas and New Year. This year gets off to a great start with the news that Tribe Series 2 is being released on DVD! See below for details. Plus we're opening a brand new online store on TheTribe.tv website – it will include all the fanclub goodies that are available and you'll be able to make payments online! We'll have this up and running very soon!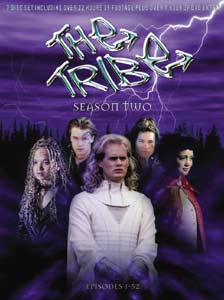 Tribe Series 2 DVD Release!
The Tribe Series 2 is finally going to be released on DVD! We know you've all been waiting on this release and we're pleased to tell you that it will be hitting stores throughout Europe and online stores on 20 February 2006! The Tribe Series 1 will be re-released at the same time.
We'll have more on this release soon – what extra's you can expect and which countries it will be available in.
Christmas Competition!
Over the break we asked you to enter our Christmas Competition and write either a Pre-Tribe story or a Worldview article. There have been some fantastic entries! We are still collating them all but we will announce the winners tomorrow!
First prize – Power and Chaos book, Tribe stickers, Tribe address book, Power and Chaos badge, CD Single of Abe Messiah and You Belong to Me, a Tribe Tour video, plus a set of T4/T5 postcards and an autographed postcard!
Second and Third Prize – T4/T5 postcard set, Tribe stickers, Power & Chaos badge, plus an autographed postcard!