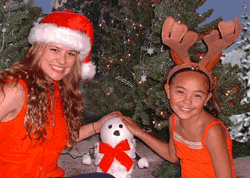 Christmas Break
Merry Christmas, Frohe Weihnachten, Feliz Navidad, Christmas Alegre, Joyeux Noël, Hauska Joulu, Vrolijk Kersttijd, Gledelig jul, Glædelig jul
All the team at Cloud 9 and The Tribe would like to wish all Tribe Fans a very Merry Christmas. The internet team are taking a break over Christmas but we look forward to bringing you more news, gossip, articles, photos and latest happenings on The Tribe in the new year.
We hope you all have a wonderful time over the festive season and we'll see you again in 2006!
Christmas Competition!
We have a huge pack of goodies to give away over the Christmas break! We would like you to write either a Pretribe story about your favorite character or write a Worldview article of your choice. The winners article or story will be put up on Tribeworld for everyone to read along with a credit that the article is yours.
This is your chance to re-write a characters past or to talk about a Worldview topic that interests you. Best of luck!! Please send your entries to comp@entercloud9.com – entries close 13th January 2006.
First prize – Power and Chaos book, Tribe stickers, Tribe address book, Power and Chaos badge, CD Single of Abe Messiah and You Belong to Me, a Tribe Tour video, plus a set of T4/T5 postcards and an autographed postcard!
Second and Third Prize – T4/T5 postcard set, Tribe stickers, Power & Chaos badge, plus an autographed postcard!