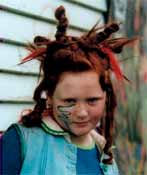 Cast Birthday!
Amelia Reynolds (Tally) turns 16 on Friday 24th June! We all wish Amelia a very happy birthday and hope she has a fantastic day. You can send your birthday wishes to ameliareynolds@entercloud9.com.
The New Tomorrow – Shoot Week 4!
We're into the fourth week of filming on the new series "The New Tomorrow" and it's another location week. All days this week will be fimed at various location's around the Hutt Valley including our backlot in Whiteman's Valley.
We'll be starting shortly on a new website and fanclub for the new series. This will take a few weeks to put together but we'll have news soon on when it will be online.
The Tribe sequel will be available for transmission around October 2005. The series is currently scheduled to air around that time on Channel FIVE in the UK and Network Seven in Australia. Look out for more news on The New Tomorrow as this latest Cloud 9 production gets underway!