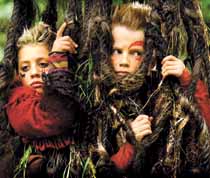 The New Tomorrow – Third Shoot Week!
Filming is racing along and we're already into the third week of shooting. The first two weeks were filmed on location and this week is our first week shooting in the studio.
The two cast members on the right are ten-year-old Rafe Custance, left, and Nick Fenton, 11.
We'll be starting shortly on a new website and fanclub for the new series. This will take a few weeks to put together but we'll have news soon on when it might be online.
The Tribe sequel will be available for transmission around October 2005. The series is currently scheduled to air around that time on Channel FIVE in the UK and Network Seven in Australia. Look out for more news on The New Tomorrow as this latest Cloud 9 production gets underway!

Exclusive for UK Fans
Channel FIVE in the UK has expressed interest to repeat Series 5 of The Tribe prior to the broadcast of A New Tomorrow. When we have exact dates and times we'll let you know!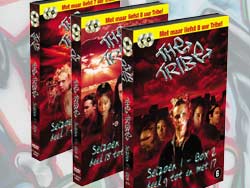 The Tribe DVD in The Netherlands – Update
The first of three parts of Tribe Series 1 on DVD will be released on April 12. The 2nd April 26 and the third May10.
Every two weeks a box containing 2 double sided discs will be released. There will also be games, interviews and goodies such as Tribe Wallpapers available, so keep coming back to Tribeworld.com for more info on The Tribe in the Netherlands!
Keep checking in to find out all the latest Tribe News!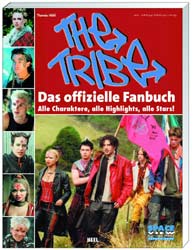 German Tribe Fanbook!
"The Tribe" has become a cult show around the world – Cool characters, unique outfits and the continuous drama captivates kids. For the first time, ever fans will have a chance to find out everything about their favourite character from all 260 episodes – in the official Fan Book.
The Fan Book includes: posters, high gloss full page photos, exclusive never seen before interview withe the cast and creators and even maps of the city and the mall.
It's definitely a must for every fan! This fanbook takes a look at the series' right from Series 1 through to Series 5. It's 64 pages of Tribe! It has now been released and can be found in all good kiosks and magazine stores in Germany.