Update – A New Tomorrow
Two core cast members have now been confirmed for The New Tomorrow and more should be confirmed in the next week or so. It's a long process and many kids have auditioned for the roles.
Things are also hotting up behind the scenes – the Production Designer and the Costume Designer both start today and will start organising set design, costume design and all sorts of other bits and pieces. They need a few weeks of pre-production time to confirm their team and start planning. Shooting will start in late May which means that the Tribe sequel will be available for transmission around October 2005. The series is currently scheduled to air around that time on Channel FIVE in the UK and Network Seven in Australia.
Look out for more news on The New Tomorrow as this latest production gets underway!

Exclusive for UK Fans
Channel FIVE in the UK has expressed interest to repeat Series 5 of The Tribe prior to the broadcast of A New Tomorrow. We will let you know transmission dates when they are confirmed.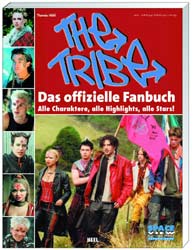 German Tribe Fanbook!
"The Tribe" has had great success all over the world since 1999 and enjoys an ever increasing fan community. Currently, the same creators and authors are preparing the spin-off "The New Tomorrow" which is a continuation of the story.
"The Tribe" is addictive! Cool characters, unique outfits and the continuous drama captivates kids. So for the first time, ever"The Tribe" fan will have a chance to find out everything about their favourite character from all 260 episodes – in the official Fan Book.
The Fan Book includes:
– one removable poster
– several high-gloss photos (some are full-page)
– exclusive and brand new interviews with the creator of the "The Tribe" Raymond Thompson and main author Harry Duffin
– exclusive and brand new interviews with Beth Allen (Amber), Dwayne Cameron (Bray), James Napier (Jay), Meryl Cassie (Ebony), Michael Wesley-Smith (Jack), Antonia Prebble (Trudy), Calen Maiava-Paris (Mega), Ryan Runciman (Ryan) and Ashwath Sundarasen (Dal)
– information about all stars and characters
– news about the future of "The Tribe" and the spin-off "The New Tomorrow"
A MUST FOR EVERY FAN! This fanbook takes a look at the series' right from Series 1 through to Series 5. It's 64 pages of Tribe! It has now been released and can be found in all good kiosks and magazine stores in Germany.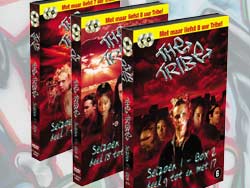 The Tribe DVD in The Netherlands – Update
The first of three parts of Tribe Series 1 on DVD will be released on April 12. The 2nd April 26 and the third May10.
Every two weeks a box containing 2 double sided discs will be released. There will also be games, interviews and goodies such as Tribe Wallpapers available, so keep coming back to Tribeworld.com for more info on The Tribe in the Netherlands!
Keep checking in to find out all the latest Tribe News!