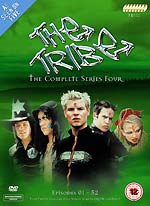 The Tribe Series 4 – Available soon!
Series 4 is the next series to be released. The Tribe Series 4 will be available on 21st August 2006 from Amazon.co.uk, Play.com or Revelation Films. Series 4 introduces The Techno's, a range of new characters and CityNet to the city.
A 7 disc set with all 52 episodes in English only. This DVD set also includes bonus extras which are still to be confirmed.
Series 5 is set to be released in November.