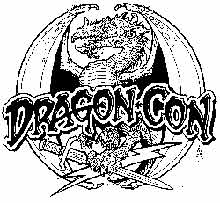 Get Ready U.S fans…..
The Tribe as seen exclusively on WAM! will be making their first U.S appearance in August!! During Labor Day weekend – August 29th – September 1st – five of your favourite stars including Meryl Cassie, Caleb Ross and Beth Allen along with Raymond Thompson (Creator and Executive Producer of The Tribe) will voyage to Dragon*Con in Atlanta.
The cast will participate in 30 hours of activities just to the fans including signings with the cast and creator, Q & A panels on a multitude of topics plus Tribal face painting and fashion and so much more!
Dragon*Con is America's largest Sci-fi and popular arts event and is now in it's 17th year. The weekend will be full of excitement, fun and entertainment. We'll have more information regarding The Tribe soon. For more information about Dragon*Con visit www.dragoncon.org
The exclusive North American appearance of The Tribe sponsored by WAM! and Dragon*con".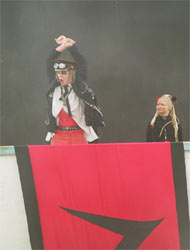 Tribe 5 on Five!
Episode 9 this weekend!! The resurrection takes place but Zoot (Darryl) gets a little too carried away with his star status. Meanwhile Ellie is sent back to the mall by Java with the bomb in her bag – will Jack be quick enough to prevent disaster?
To find out more about the latest episodes check out the Plot Synopsis!
Catch The Tribe on Five every Saturday at 11.55am – Don't miss it!!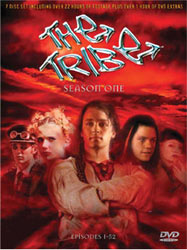 Tribe DVD's and Video's!!!
The Tribe Series 1 DVD's and Video's are running out the door! They're selling fast so you'd better get in quick.
The DVD's and VHS's as well as having the entire first series also include special features such as The Making of The Tribe, Tribe on Tour 2002 and the first Bloopers video.
You can find them in all good retail outlets as well as atwww.amazon.co.uk
Don't miss out!
Tribeworld Bulletin Board
We are currently having a few problems with our Bulletin Board but hope to have the situation fixed very soon. We'll let you know about the new VBulletin system and other details as soon as we can. For now we thank you for your patience and there is a temporary bulletin board for you to use in the meantime