Happy New Year!
The Internet and Fanclub teams are back in full swing and so is Tribe 5! Check out the website for all new articles this week as we get back into top gear and bring you the latest gossip, news and information from The Tribe.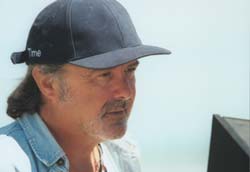 New Year's News!
In December 2002 Raymond Thompson was appointed an Adjunct Professor by Queensland University of Technology in the Creative Industries Faculty as a vehicle for guest lecturing, mentoring and to consult in both the private and public sector on the television and motion picture industries.
In addition, in recognition of Raymond's achievements, he was appointed by Her Majesty Queen Elizabeth II as a Member of the New Zealand Order of Merit in the New Zealand honours list 2003 in recognition of his services to television and entertainment.
New on Tribeworld.com!
All new articles this week! Look out for the latest location report, new Worldview, Tribestyle, Pretribe, Tribemaster, Interviews, competitions and more!!
Until next week,
Stay Tribal and Keep the Dream Alive…