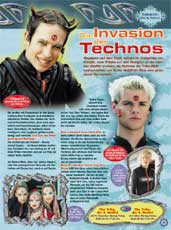 Rumours…
The first German Tribe Magazine was such a success that there are rumours of a second German Tribe magazine just around the corner. The second issue will be just as packed as the first with cover stories, exclusive interviews and photos plus sneaky behind the scenes gossip. We also hear that there's another free tribal gift with every magazine purchased!
We'll keep you updated on the latest information and let you know when it will be in stores.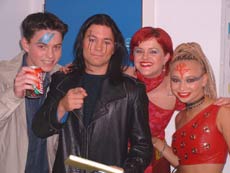 Tribe Tour 2003
Tribe Tour 2003 is being planned!! It will be the fifth Tribe Tour to Europe since The Tribe began!
So, where will the 2003 tour go this year? When will it begin? Who will be on the tour? All is yet to be revealed but we are eager to get a bit of feedback from you guys. We have a special survey page for you to fill in, telling us which country you'd like the tour to visit and who you'd like to go on the tour!
We certainly can't promise that just because you vote for a cast member that they will be available to come along. But your vote will give us a good idea as to who you'd like to ogle at – male or female – and which countries are most desperate for a tour.
Tribe 5 Start Date
Filming still continues in New Zealand but there is a tentative start date for Tribe 5 in the UK!! Channel 5 in the UK look set to air Tribe 5 in mid March 2003! Not long to go now!
When we have more information we'll let you know – right here!
Until next week,
Stay Tribal and Keep the Dream Alive…