The New Tomorrow – Shooting Continues!
Today is shoot day number 51 and we're into week 11 of filming!
There were 89 extra's used last week with one day alone needing 32! They were also at our backlot in Whiteman's Valley all week.
Last week was also the sunniest week we've had in ages! It's winter in New Zealand at the moment but last week we had 5 days of sunshine! It was warm and sunny and a great week to be filming outside.
The Tribe sequel will be available for transmission around October 2005. The series is currently scheduled to air around that time on Channel FIVE in the UK and Network Seven in Australia. Look out for more news on The New Tomorrow soon!

New German Tribe Book!
There's another German Tribe Book in the making!
Book 13 – Lex : Heart on Fire follows Lex from the beginning where Ryan, Zandra and himself arrived at the mall. His advances on Zandra, Taisan, and the sad death and disappearance of them both. Eventually Lex finds love a third time with Siva but again his love is taken away. Follow Lex through his rollercoaster life and see where he ends up…
The Tribe in America!
Negotiations are coming to fruition for the entire Tribe series' to go into syndication in America. This means that the series will be going directly to local stations for broadcast. The series should premier in September – so watch this space!

FIVE repeats Tribe Series 5!
Channel FIVE in the UK is repeating The Tribe Series 5! Tribe 5 has been re-edited into 13 one hour episodes and they're being repeated every Saturday on FIVE at 9.55am. Don't miss them!!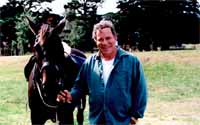 Swiss Family Robinson and William Shatner's A Twist in the Tale on home video
Questar in the USA have signed a deal with Cloud 9 to produce home videos of The Adventures of Swiss Family Robinson – to be released throughout the United States.
Richard Thomas (best known and loved by international television audiences for his legendary portrayal of John Boy in The Waltons) heads the cast in Cloud 9's captivating and lyrical adaptation of the timeless classic by Johann Wyss.
Shot entirely on location in Fiji and New Zealand, the palm trees are real as are the white sandy beaches and crystal clear waters.
Image Entertainment in the USA have also signed a deal to release Cloud 9's popular series "William Shatner's A Twist in the Tale" on home video throughout the United States.