The New Tomorrow – Shooting Continues!
We can't believe there are only a few weeks to go!
There was a big production meeting last week to discuss the third block which is episodes 16-20. The production meeting involves going through all the sets, scenes and locations with all the heads of department. They run through how many extra's are needed on which days and schedule which days will be shot at which location. They also discuss animal wrangling requirements and we can tell you there is a pony in the next block and there were some gorgeous little chicks on set last week.
The new website is underway and things are progressing well. This will take a few weeks to put together but we'll have news soon on when it might be online.
The Tribe sequel will be available for transmission around October 2005. The series is currently scheduled to air around that time on Channel FIVE in the UK and Network Seven in Australia. Look out for more news on The New Tomorrow soon!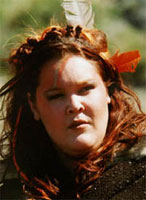 Vanessa Stacey's Birthday!
Vanessa Stacey is currently working on the new Cloud 9 series "The New Tomorrow" and it's her birthday on 7th August! You can send your birthday wishes to vanessastacey@entercloud9.com

FIVE repeats Tribe Series 5!
Channel FIVE in the UK is repeating The Tribe Series 5! Tribe 5 has been re-edited into 13 one hour episodes and they're being repeated every Saturday on FIVE at 9.55am. Don't miss them!!