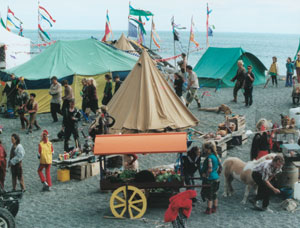 20,000 reasons to celebrate!
With over 20,000 members of The Tribe (Official)'s Facebook page, there is plenty of reason to celebrate… and you can join in the party by attending the Tribal Gathering on Sunday 26th June 2011 (New Zealand time)! 😀
Preparations are underway, so mark your diaries and we will come back to you as soon as we can with more specific detail of how the marathon will shape up and an itinerary for the day.  What we can tell you is that the Gathering will be for about a 12 hour duration in order to let as many people over all the different time zones participate.  There's going to be lots of activity happening – and some surprises.  Some might wish to dip in and out while others wish to go the whole route, and celebrate with their friends through a live party as well as a digital one.
It's showtime!
Part of the Tribal Gathering will include a special commemorative video – which you can be in!  You can email us a video message or greeting and we'll put together a compilation of fan messages which will form part of the video, to be released on the day of the Gathering.  Be a part of the Gathering in more ways than one!
We can accept any video format (up to 15 MB in size) and it could be a personal Tribal message to the world or some well wishes – or even yourself dressed up in Tribe gear shouting Power and Chaos!  You can email your video message to contact@entercloud9.com and we will then edit the footage together so it can be put up on our Cloud 9 YouTube site on the day of the gathering so that friends and fans around the world can see the greetings they have exchange.  So this is your chance to literally 'put yourself in the picture' and appear alongside all the other special guests for a truly memorable occasion and special video.
Tribe Fashion
Another part of the Tribal Gathering – we thought it would be fun to have a 'fashion parade' showing fans in costume or Tribe make-up!  So for anyone feeling particularly Tribal and inclined why don't you post your photographs on Facebook (or email them to contact@entercloud9.com) so that we can then pick out a winner from a panel from HQ – as well as a winner which your fellow Tribal brothers and sisters can identify from a voting system which we will try and structure.  It's all for fun…. show us your style!
Look into the future…
2011 has had many achievements so far as the team has been hard at work bringing more of The Tribe to the world.  In just a little over four months we have made terrific progress with:
– The Tribeworld.com website being restructured and reactivated
– Four albums being made available on iTunes globally
– Some Tribe limited edition collectables being rediscovered (as well as pre-release promotional copies of the albums being made available to fans well in advance of the actual albums being available in any hard copy in shops)…
– Our thanks go to Dwayne Cameron, Danny James, Matt Robinson and Meryl Cassie for the four cast chats
– Several videos have been posted to the Cloud 9 Channel on YouTube
– A motion picture is in development with the screenplay currently being written
– Along with a novel of 'what happened next', as well as arrangements for that sought after story as well as another novel soon to be made available in both paperback and ebooks.
– Plus we can confirm that a Tribal diaries book will also be made available this year with lots of outtakes, information.  So watch this space.
Thank you all for the lovely comments we have received on all the efforts to date and we are especially happy that the music has been so well received as well as the new Tribeworld.com site.
We'll bring more news updates as soon as we have details of the Tribal Gathering and developments on all the other fronts.
Thanks also to every single one of you for arriving at the 20,000 milestone and with all that has occurred as well as all the exciting things that are being planned – the dream is truly alive.
Keep the dream alive!