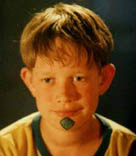 Name
Paul Series Series 1
Tribe The Mallrats
Biography
Profoundly deaf, Paul signs to communicate. He has an increased awareness of vibes around him, which others can often miss.
Though his disability can tend to isolate him, Paul's ability to cope is often inspirational. He shares a strong sense of mischief with his sister.
Cast Member
Name Zachary Best
Interests Zachary enjoys reading and loves go-karting.
Biography
Zachary was 10 years old in Series I and the Tribe is his first acting role in television. Zachary is profoundly deaf in real life and adds much emotion and experience from this to the role of Paul who is also deaf in the series.