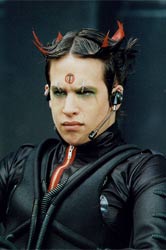 Name
Ram Series Series 4 and 5
Tribe The Technos
Biography
Eccentric and brilliant in equal measure – RAM is the undisputed leader of the Technos.
A childhood prodigy, everyone recognises RAM as a visionary and genius – none more than himself. With his disability he faces challenges and he is also a hypochondriac, a little paranoid, and has an explosive temper but his followers believe these are outweighed by his mathematical, technical and computer skills.
He is ruthless but rewards loyalty and performance. RAM has a dream which he is determined to realise – but will it turn into a nightmare for everyone else?
Cast Member
Name Tom Hern
Birthday 10th December 1984
Interests Tom enjoys playing the guitar, rapping and singing.
Biography
Tom has a wide range of acting experience in television and the theatre.
Previously, Tom has been a presenter on television's "What Now?" series.
Tom in his spare time enjoys music and is an accomplished singer, musician and writer. Check out his cool "Tribal Christmas" song in the Media section