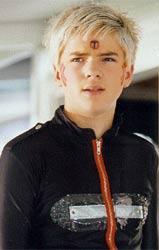 Name
Ved Series Series 4
Tribe The Technos
Biography
As younger brother to Jay, many think VED has a lot to live up to – but he is determined to lead his own life and is very different to Jay. Unlike steady Jay, VED is impulsive, headstrong, stubborn and unpredictable – this leads him into troubles at times.
He enjoys wielding power and female company but is dismissive of "virts" (non-Technos). Second only to RAM in computer skills and technical competence, VED is inspired by RAM, who seems more of an influence and role model than Jay is for him. VED is a rebel with a cause.!
Cast Member
Name Dan Weekes Birthday 22nd August 1987
Interests Dan enjoys playing rugby and softball and his favourite actor is Tom Hanks.
Biography
Dan was 15 years old in Tribe 4 and has had previous acting experience on television and the stage.