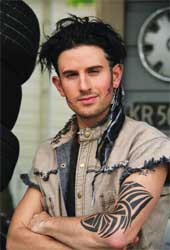 Slade didn't know how long he had been there. Could have been hours could have been days. The light was always the same so it was impossible to tell whether it was day or night. Slade suspected that it was somewhere in between; that he was part of some weird twilight zone existence where reality and dreams merge into one. Man, he had become part of a living breathing horror story without even realising it.
He closed his eyes and breathed in deeply, focussing on the warm air touching his throat and working its way down to his stomach. He tried to stop his legs from shaking and tensed and then released each muscle in his body. He felt himself calm down after a time and allowed himself to relax as much as he could. His mind drifted off to distant places and times and he felt his eyes prick with hot tears.
There was a time when Slade had been happy, he was sure of it. He couldn't remember exactly when or exactly how but he did have vague memories of laughter and hugs and good food and the company of people he loved. Of people who had loved him. Of life…
The train station was as busy as it had always been and Slade was loving every minute of his time there. Sitting by Platform 7, outside of a coffee shop that sold what could only be loosely described as 'food', Slade watched the throngs of people passing by.
Slade was in his fifteenth year and could think of nothing more exciting than leaving his hometown. This wasn't something within his grasp at this moment in time so he had to make do with second best – watching other people leave town.
Greendale, glorious Greendale. With tree lined streets, colonial style homes with white picket fences, a playground full of well dressed toddlers and even better dressed Moms, one gas station and a small mall, Greendale was home to folk who sought country living within spitting distance of the big city.
Quaint and quiet, Greendale was a great place to live. There was a real community feel and everyone knew their neighbour – and regularly shared gossip over the fence. And if they ever got sick of the wide smiles of the townsfolk (though this was rare), they could get on the train and ride into Ferndale or Hewhaven or any of the larger towns in the area. And Clevedon City was only a hop, skip and a jump away on the Northern Line.
Life at 876 Yeardly Avenue was picture perfect. Grace was a first grade teacher and enjoyed visits to the library in her spare time. She was also renowned for making the best apple pie in town and was friend to children and old folk alike as well as to the birds and animals who were brought to her, sick or injured for some tender loving care.
Garth taught driving school and his patience and dedication to the job were admirable without fault. Most of the youngsters around town had been signed up to learn to drive with Garth who was known affectionately as Green Light Garth as his pupils never failed their driving tests.
Carla was the darling of the town. Tall, blonde and slender, Carla was a cheerleader, friend to the needy and hostess with the mostess, always throwing sleepovers and parties. Everyone loved Carla. She had a sunny personality and was never seen to be down or sulky like most of her friends could be at times.
Everything in Slade's life was perfect. He had the best sister anyone could wish for; his parents were angels and loved him unconditionally. His grandparents were always available at the drop of the hat and invariably showed up with a few dollars in their wrinkled but manicured hands for 'treats for the kids'. Uncles and aunts all lived nearby complete with toothy children pampered pooches and pools in the yard.
It was an existence that most people could only dream of. Slade had it all. His family could not be faulted. He wanted for nothing. He was allowed his independence whilst knowing that he could count on his parents for their support if he ever got out of line – which he never did. He was never lonely as he had a whole heap of friends, each one as good-looking, funny and cool as the next.
Still, Slade wanted out of Greendale. He wanted to see what life was like outside of this beautiful place. Where he could go and who he could meet. Whether he could make it without the support of his family and the admiration of his friends. He had a crazy, irrational feeling that there was a part of himself out there somewhere and he needed to find what and where it was.
He had been suffering from restless feet for quite some time and the only way he could get by was to sit at the station and to dream of the day he would leave the town for good. He relished the sound of the trains as they roared into life and took people to places he had never been.
He loved the smell of the diesel and the buzz and pace of the platforms as travellers rushed to their compartment, eager to get a good seat on their train so they could watch the world as it raced by on their journey to someplace else.
Slade lived for these moments, the times that he could take himself away in his thoughts. He dreamt of a far off life full of adventures and new destinations. Of a new beginning where he could prove himself to be the man he knew he was. He would sit outside that greasy coffee shop for hours and dream all his dreams, mull over the fact that he felt he needed to 'find himself' …
But mostly he would sit there and remember the day that she had left…