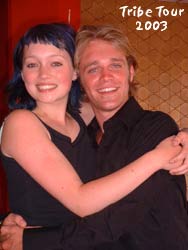 The Tribe Tour 2003 is going to be the biggest tour yet by the cast of The Tribe – Michael Wesley Smith, Danny James, James Napier, Meryl Cassie, Beth Allen and Antonia Prebble will be travelling throughout Europe during March 2003 – Check out where they're going and what they'll be up to right here!!
The Tribe Tour 2003 continues to hot up with plans taking shape and more countries being added to the list.
The tour kicks off on March 5th as you will know. The cast will make their way over to the other side of the world where they will arrive in Frankfurt.
From here they will travel throughout Germany on their tour bus and they will be making appearances on television programs and in magazines as well as making sure that they will get to meet as many of you as possible!
We are still waiting for the itinerary to be finalized but we will let you know as soon as we do as to where the tour will go.
The tour will stay in Germany for around ten days and then it is off on a whistle stop tour of Finland, Norway, The Netherlands and Denmark (where the cast might well be split into two groups to enable them to cover more ground!)
And then it is off to the UK for a signing session extravaganza around the country! So it's all go