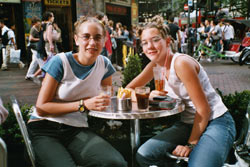 London Trip
Two Girls from Switzerland meet the New Zealand Tribe Cast in London
It started as a joke when we (Karin and Yvonne) browsed the Internet for flights for the 23rd of August from Zurich (Switzerland) to London. But the joke soon turned into a serious business when we booked our tickets. All we needed now was a huge banner for us to take with us. So, on Friday we cut out some fabric for our banner and wrote in big letters "Greetings from Switzerland". We then went to bed early because we had to get up very early the next day.
The alarm went off at 4:30am. We got up and went through some last minute preparations. We both wanted to have the same hair style as Amber, but because we only had until 5:55am, we only had time for of one of us to be styled. We decided to wait with the putting on of our make-up until we were in London as the flight attendants might have otherwise reacted strangely!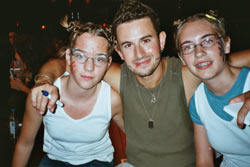 At 6:05am Karin's father arrived to accompany us on our trip to London. We were on our way to Zurich in time to catch our flight. Although our flight was scheduled for 7:50am, we wanted to be there a bit earlier – you never know, there could have been a traffic jam on the way… but there wasn't one and so, of course, we arrived at the airport far too early. We picked up our tickets and sat in the business lounge to wait for boarding.
At 7:20am we took our seats on the plane and waited for the big bird to head for the run-way. Then we took off. We had about a two hour flight ahead of us. The first thing we did after arriving in London was to look for the tube. Luckily, we found it quickly. At the ticket counter we stood in a huge queue. After we finally got our tickets we sat down in the tube.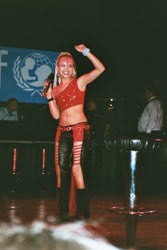 As Yvonne hadn't done her hair style yet, we had to do it now. The people in the tube gave us some funny looks when my friend got her comb and several styling utensils out. The tube shook terribly from one side to the other, which made the hair styling even more difficult. Somehow, however, Karin managed to finish the hair style. After a good hour's trip we arrived at the station (but we realised later that we should have stayed on for another stop).
YIPPEE! Finally we had arrived. Unfortunately we had to wait for an hour until the doors to the Hippodrome opened. So we took the time to put our make-up on. Luckily, it didn't rain. Instead the sun was so hot that I was worried about the (Swiss) chocolate we had brought for the four stars melting away. But we were lucky. Finally, at 11:30am the doors opened and we were let in. A few minutes later the Tribe stars appeared on stage. Meryl, Caleb, Beth and Matt raised up from out of the ground. That was an awesome feeling!!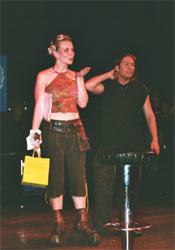 They welcomed us and began straight away giving the first autographs. At the same time two episodes of The Tribe were showing on the big screen. Unfortunately, we didn't understand much of those new episodes. Since we were not yet able to get our autographs, we had to wait for quite a while. So we were given a piece of paper to write down our questions to Meryl, Caleb, Beth and Matt. We wanted to ask them if they would ever come to Switzerland. When our question was later read out, Meryl asked for what reason they should come. We were so excited that we couldn't even answer that question. Therefore we are answering the question now: Switzerland has the best CHOCOLATE in the world, delicious cheese and beautiful mountains. Also it would mean that we wouldn't have to travel so far to see our stars (London was really cool, but a bit expensive).
After all four of them gave further autographs Matt sang two songs. Unfortunately the light wasn't good enough to take photos, so we decided to move towards where Matt was standing giving autographs. The queue wasn't too long yet. Finally, when Matt came back, we got our autographs. Then we gave Matt our gifts (chocolate and cheese). He said that he loved cheese. After that a nice lady took a photo of us with Matt.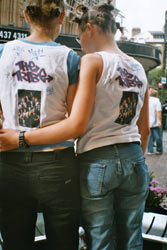 Then we went to where Caleb was standing. Unfortunately, we didn't really get a chance to talk to him, but we got our photos and autographs. Then we queued up for Meryl. She was really nice. When I gave her my flight ticket to sign she seemed astonished and asked what it was. I answered that it was a ticket for a flight from Zurich to London. She then asked us how long the trip was and when we replied that it took us three hours to fly over she thought it was really cool that we'd come all that way just to see her. She didn't manage to sign everything before she had to get up on stage to sing.
She is such a great singer that it didn't matter about all the technical problems they were having. We were really sad that the day was nearly over. Meryl came back briefly to sign some more autographs and she even signed our T-shirts.
Then it was time for the Four Stars to go. We hadn't managed to get an autograph from Beth so we looked around for someone who could get us one. Soon, however, Beth came out again and autographed our T-shirts.
After they had finally all gone we went outside and to the café across the road from the Hippodrome for an ice tea. After that we caught the tube back to the airport and flew back home to Switzerland – we were very tired and hungry (the day had been so exciting that we had forgotten to eat).
It was such an amazing and exciting day, that we decided to come back to London one day.
If there is going to be another Gathering like this, we definitely won't miss it.
Karin (15) and Yvonne (15)