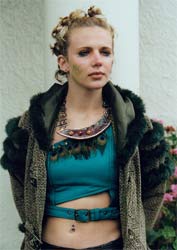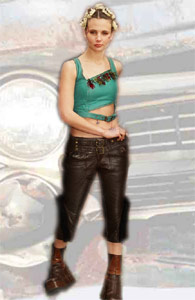 Over the next few weeks we are going to profile a few of the costumes used throughout the series. From the way they're made to why they were designed the way they were. This week is Amber's Tribe 5 costume. Click any of the costume pictures for a larger view.
An attractive, fiery, intelligent girl who initially assumes control of the group through her natural leadership qualities. Amber has had to become streetwise the hard way, though her background is middle-class, private school education.
She's fiercely moral and determined that something positive will come out of their predicament. This leads her to sometimes be too hard on everyone, herself in particular. In reality, a sensitive, caring soul, Amber has a great longing for love deep inside her, which she keeps hidden, fearing that to reveal it will make her weak.
Amber is often dressed in a casually smart way. Her clothes are always perfectly fitted and well presented. This costume of hers is very earthy with natural colours and textures. There is definitely still an Eco-Tribe vibe in Amber's style.

Amber's top is made of a torquoise coloured leather. It is a singlet style 3/4 top. The front panel is a quadrilateral but the neckline and midriff hem are slanted.
At the bottom of the top the leather joins into a buckle that does up above the waist. Along the front neckline are sewn in feathers, most notably peacock feathers but there are also yellow and black feathers, red and black, and blue and black.
The back of the top is done up with black lacing. There are eleven eyeholes down each side of the back. The back of the top also has two pleats at the back which help keep the top fitted and tight against the skin.
All the stitching on the top is in thick yellow cotton thread.

Her pants are 3/4 pants and come to just below the knee and sit low on the hips. They are made of thick brown leather. On the bottom half of the leg is sewn in a semi-circle on each leg a piece of possum fur. It actually goes all the way around the side-split in the leg. The side split is 22cm long and stops above the knee. The pants are designed this way to give much more movement in being able to bend the knees. If you remember Amber's black 3/4 length leather pants in Series 1, they were very tight and had no split around the knee – this made them very hard to run in.
These pants have no waistband and no belt loops but there are two side pockets at the front.
Amber has long been a wearer of 3/4 leather pants – tight black ones in Series 1, red ones when she was pregnant in series 3 and 4 and now these ones.

As a fashion accessory rather than to keep them up I think, Amber wears a large brown leather belt. It is made of the same leather as the pants and has two buckles at the front. Also on the belt are two small pockets one on either side of the buckles. They are done up with two metal domes.
The belt is a large one and is 8.5cm wide.

Amber's jacket looks fabulous on her. It is made of a velvety fabric that is taupe and black in colour. The fabric is reasonably lightweight and I think looks heavier than it really is.
It is a full length jacket with two large pockets on either side about mid-thigh. The jacket is a fitted shape and has been pulled in a little at the waist and, two buckles at the front to do it up, help pull it in even more to fit nice and snug. It features a large hood and the arm cuffs are very flared.
The trim on the jacket is rabbit fur. It's amazingly soft and has been dyed a musty green colour. This trim is on the cuffs, and is also around the wrist of the sleeve, three layers of it around the shoulder and it is also used as edging around the collar and the hood.
The coat is lined in brown satin.
Amber's boots are not to be taken lightly! They're huge!
They're described as patchwork leather boots. Made of various shades of leather in browns and oranges and reds. The heel is 11cm high that's 110mm. Around the sole of the shoe is a veneer of leather which has stitching patterns on it. They're done up with a brown zip on the inside of the ankle.
Beth can walk pretty well in these boots but has to be careful not to twist an ankle and always takes them off if she needs to run. It's a long way to fall!

This necklace is very cool. It's made of a large curved shaped piece of paua (abalone) shell. Laid over the shiny part of the shell is a red feather. The paua shell and the feather are sandwiched between two thin pieces of flexi plastic and sealed at the edges with very thin copper sheeting which gives it nice coppery glow. Three holes have been drilled through this and three small glass orange beads have been attached to the front.
Holding the necklace on are four pieces of copper wire. Two on each end of the necklace. These have been threaded with copper/orange coloured beads and more paua shell.

These rainbow coloured earrings Amber has been wearing for quite a while. They're a simple hook shape but are very cute.