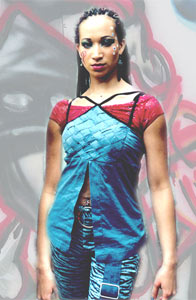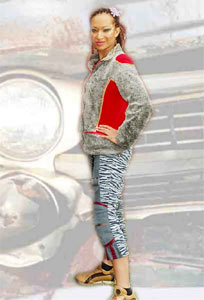 Over the next few weeks we are profiling a few of the costumes used throughout the series'. From the way they're made to why they were designed the way they were. This week is Siva's Series 4/5 costume. Click any of the costume pictures for a larger view.
Like her sister, Java, Siva is betrothed as one of Ram's "girls"during Series 4 and carries considerable influence in the Technos. But unlike Java, Siva is not content with this – she fears Ram for his anger and jealousy and doesn't like being anybody's "property".
Siva is looking for genuine love with the guy of her dreams – this isn't Ram. With good computer skills and hand-to-hand fighting, Siva often leads ground operations for the Technos.
Siva has been with Lex since Series 4 and doesn't put up with his bullying or bad boy attitude.
Siva has had three costumes throughout her time on the show. Firstly she started off in her Techno uniform, then when she escaped the Techno's she wore her yellow tartan pants and black top and then she's had this one ever since late Tribe 4.

This little pink top is worn under her peasant top. It is very short and is very much like a crop-top. It is made of very thin pink mesh. The mesh has silvery flowers printed on it with. It has a very wide neckline and the sleeves are as short as they could possibly be without ending up a singlet. The neck seam is doubled over and overlocked.
Siva's steel blue overtop has a peasant feel to it's design. It is fitted at the top and with a split down the front it opens up for a much looser fit at the bottom.

The top front panel is a weave pattern. Pieces of this material have been cut in 1 inch wide strips and have been weaved together in an up and over weave. The top has a cross over strap to keep it on. The two front straps cross over and meet the shoulder strap and continue to the back. The straps are made of black elastic trim.

The back of the top is done up by a small blue metal zip that goes half way down the back. On both sides of the top there is a toggle pull thing. This means that both sides of the top can be gathered together vertically.
Siva's 3/4 length pants are made of "Blue Tiger Denim" that is a little stretchy. They have an interesting make up at the knee. A seperate panel has been sewn on each knee in light blue stretch denim that has a dark red shimmery cotton trim. The knee pieces actually have a complete split across the centre so that if the knee is bent it is visible outside the pants.
The denim knee patch also extends to the bottom of the leg and has three vertical red stripes at the bottom made of the same dark red trim on the knee patches.
On the left leg is sewn a two inch wide piece of denim, from the waistband to the knee. But about 3/4 of the way down it meets the piece coming up and they both do up together with a large silver buckle.
The pants have a waist band and belt loops and are done up with a dome at the top and a metal zip.

Her belt is made of red vinyl that has a reptile pattern to it. Every 1.5cm is sewn double silver studs. The mechanism to do them up is very simple. At one end is a very large loop and the other is a hook which hooks over the loop!

Siva's shoes are leather sneakers in tan and brown. They are "Bronx" shoes. They sit slightly higher up the ankle than a normal pair of shoes.

Jewellery is often not the most noticed part of a character's costume. It's easily overlooked when faced with bright funky clothes that attract the eye.
This necklace is made of two circles. Each circle is made of a circular piece of red perspex. Attached to each of them is a metal washer. A hole is drilled through each of them and they are threaded onto a very thin piece of black wire. A tiny piece of metal has been crimped above the bottom circle and keeps the top circle a little above it. The wire these are threaded onto is then attached to another piece of wire with goes around the neck. It is done up with a parrot clip.

Siva's wrist band is made of light blue crochet band. The stone in the middle is like porcelain and is blue with white specks. The crochet band extends around it holding it in place. Two small round black beads lie on either side of the larger stone. To tighten it you just pull the two pieces at the bottom of the bracelet.

To match her necklace Siva wears a pair of red perspex earrings. Over the top of the perspex is a thin layer of aluminium foil and over that is a thin red adhesive plastic. This gives the earring a red textured surface. This is also done on the necklace.
Unfortunately we could not find Siva's jacket to include in this profile.