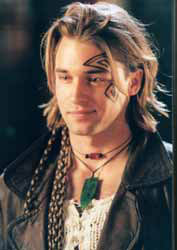 Over the next few weeks we are profiling a few of the costumes used throughout the series'. From the way they're made to why they were designed the way they were. This week is the first of Bray's Series 3 costumes. Click any of the costume pictures for a larger view.A handsome, confidently cool, enigmatic young man. Bray is an experienced eco-warrior and activist. Tall, well built, Bray can handle himself and has made it his mission to look after others.

Right from the beginning in Series One he had Trudy's wellbeing in mind. He would sneak out, put himself in very dangerous positions and situations in order to get food for her.

His loyalty to the Mall Rats was second to none and he is the perfect leader for them. His style of leadership was not overly pushy, but he had a natural aura which would draw people to look up to him. His charisma often gained him affection from a lot of females, however his heart remained with one person only – Amber.

This outfit Bray wore in Series 3. It has a tribal feel to it and incorporates a few Maori symbols and designs.

This knitted white vest was not very flattering but still looked quite good in the overall outfit.
It is not actually wool but what looks like white shoelaces. They've been knitted together in a way that allows the to stretch horizontally. The front of the top is split down the front and is joined together wtih round white elastic theaded through little elastic hoops on either side – which obviously gives this top even more stretch. It is worn quite tightly The shoulder straps are made of large white cotton tape – the type you might find on the back of a curtain. Down each side is a split about 5 inches long.


On his lower half Bray wears a pair of black jeans with white stitching. Around each thigh, the jeans have had sewn around them three large red stripes. Around the calf of each leg there is also a large cargo pocket on the outside leg of each side. On the inside leg there is another panel to the leg that is sewn like an arch up to about the knee.
The front of the jeans have no fly There is an upside down arch across the crotch that is criss crossed in white stitching and has 5 rows of black drawstring theaded across it. The pockets of these jeans are located on the side seam of the waist and do not come around the front of the jeans. They are done up with zips.
The back of the jeans are much the same as the front except there are two large pockets on the backside.


Attached to Bray's jeans are two flaps or apron's that are very Maori in design. They are each attached with two metal buckles. They are made of calico.
The front one is red and white with strong black borders and lines. It has koru patterns around the outside edges. Written across itin green paint is a Maori phrase which reads
TAMA TU, TAMA ORA, TAMA NOHO, TAMA MATE. This roughly means "a man who stands strong will succeed in life whereas a man who sits and does nothing will not".

The back panel almost looks like it represents a Taniwha. A Taniwha is a water monster that is usually depicted with large eyes and sharp teeth.
This design on the back panel is quite clever. In the middle is a large red whale tale and around either side are large swirls which could represent the water but also look like large eyes. So the picture both looks like a Taniwha with sharp teeth but also like a whale diving down into the water.

Bray wears large black leather boots similar to this pair. They have metal trims and lots of buckles.
Bray also wears a large brown leather jacket which unfortunately we couldn't track down.
Another Tribe Style coming soon…