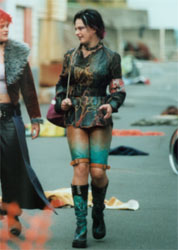 Over the next few weeks we are profiling a few of the costumes used throughout the series'. From the way they're made to why they were designed the way they were. This week is May's Tribe 2 costume. Click any of the costume pictures for a larger view.
If one word sums May up it is "survivor". May is determined to survive in the new world and will do whatever is necessary to do so – and her "me, me, me" attitude sometimes annoys other Mall Rats.
But May is more than a "survivor" – she also has a sensitive, sympatheic and compassionate side. Her and Salene have a close friendship which May depends on especially as the other Mallrats aren't so eager to trust her.
May first joined The Tribe in Series 2 when she helped Salene out.
This is the first costume May had on The Tribe.


Firstly May wears this very small leather top. It doesn't leave too much to the imagination. It is made of a thin reddy brown leather and has sleeves that come down to the elbows. It is very wide cut across the chest and does up at the bottom with a buckle.
May's shorts are also made of leather which is fairly thin and quite orange in colour. It has a snakeskin texture to it and fades into a teal colour at the bottom of each leg. They have a large waist band and do up with a dome fly at the front. There is a large leather belt around the waist and the bottom of each leg also has a leather buckle cuff.


May also wears this black leather jacket. It is double breasted and does up down the right hand side with five large brass domes. The jacket has been painted in multi coloured paint in patterns that sort of resemble fire. The bottom of the jacket has a distinctive cut and almost looks like a tails jacket at the back.
Sewn into the jacket is a large (3 inches wide) leather belt. It is sewn into each side seam and does up at the front. This has also been painted to match the jacket.
On the back of the jacket there is a little eye painted into the small of the back – it's pretty small so you may not have noticed it before.


The inside of the jacket has had a fleece lining, added presumably because Laura wouldn't have been very warm in her little brown leather top and this jacket alone.
Around her wrists May wears these cuffs. They are actually made of rubber and have a very raised pattern on them which is just like the back of an alligator – scales and all. They are lined on the inside in leather for comfort and have been stitched all around the outside edge in thin leather thread. They are done up with a large black plastic zip on the underside.


May's boots are large and chunky as are most tribal footwear. They are large boots that come up to the knee and are black leather. Attached to the top of them are sets of three can tabs. These are attached with black stitching. The back of the heel has had squashed aluminium cans attached to it.
And then there's the amazing painting. Each boot has a been hand painted intricately with a coiled snake. Their tails ending on the top of the boot. They're very detailed and the colours match the cuffs and jacket painting.


Around her waist May wears this silver chain with can tabs attached. It is very light and looks great.