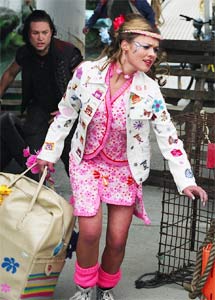 Over the next few weeks we are profiling a few of the costumes used throughout the series'. From the way they're made to why they were designed the way they were. This week is Gel's costume. Click any of the costume pictures for a larger view.
Gel is totally self-absorbed, into fashion, the latest look and always looking for the next piece of gossip.
Gel hardly recognises danger or crisis, the state of her nails or her hair are Gel's prime concern. She doesn't understand or care about the power struggles that go on around her and in the city.
All she wants is a quiet ordered life, so she can concentrate on the important things in life; her appearance, her growing interest in 'boys' and having fun.
This is the second costume that Gel wore during Series 5. Take a look at the archive to see her first costume.


Who would have ever thought that orange and pink would go together? The main fabric in Gel's outfit is a light cotton that is covered in white, pink and orange flowers on a pale pink background. Gel's halter top has a halter neck and is very flattering on her slim figure. The front of the top comes across in two semi circles that overlap in the middle and is secured wth four pink smiley face buttons.
The front is actually in four seperate sections so as to create a fitted look around the bust and the two outside sections have soft pink ribbons sewn diagonally across them. Around every outside seam there is sewn a stip of orange ribbon and a gatherered pink trim

The back of the top has two more panels on either side with the diagonal pink ribbon sewn across it. In the middle there are two pink flaps attached with eyelets. These gather together the back for a perfect fit and are drawn together with a long orange ribbon.

Gel wears a matching a-line skirt. But both the front and back have a piece cut out of the middle but the top half comes back down as a flap. All edges are again done in the pink gathered cotton.
Attached to the top of each slit at the front and back are big pink and orange ribbons tied in a bow.
The skirt is the same both front and back.

With such a short skit and a few gaping holes Gel wears some girls boxer shorts. These are pink stretch cotton/lycra with white lace along the hem.
Gel's jacket was once a blue jean jacket by Mooks. It has been bleached white, probably several times, and tribalised.
Various patches including flowers, butterflies, mushrooms, hearts and fairies have been sewn all over it. The jacket has two breast pockets and two waist pockets on the front and goes well with the pink of the rest of the outfit.

Around her wrists Gel wears a pair of cuffs. They're made of the same material as her top and skirt and also have the gathered pink cotton trim. They do up around the wrist with a pink smiley face button.
On her ankles and covering her boots a little Gel wears a pair of bright pink woollen leg warmers.

Gel just loves pink and so her jewellery is also flowery and pink. Her necklace is a pink ribbon with three organza roses attached to the front. Her earrings are metallic pink loops with clip on roses attached to them to hold them on as Vicky doesn't have her ears pierced.

Finally there are Gel's boots. Very silve