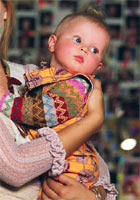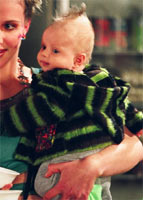 Over the next few weeks we are profiling a few of the costumes used throughout the series'. From the way they're made to why they were designed the way they were. This week is Baby Bray's costume. Click any of the costume pictures for a larger view.
Baby Bray is the son of Amber and Bray. Born at the start of Series 4 his first few hours in Tribeworld were scary ones.
Amber went into labour at the end of Series 3 and while her and Bray worked through the contractions, the Techno's arrived causing havoc all over the city. They took Bray with them leaving Amber in pain, scared and by herself.
Luckily Trudy found her in time and little Bray was born safe and sound. The next few hours were tough on Amber. She was unwell and fatigued and Trudy, Brady, Baby Bray and herself needed to get somewhere safe. They found safety at the Eco-camp and Baby Bray became an Eco-baby.
Baby Bray's earliest costume was a white sheet. Wrapped up to keep the new born warm as Amber and Trudy struggled through the forest.

This cute little jacket is in keeping with the Eco fashion of the Eco-Tribe where Bray spent his first few weeks. It is made of polyester fur and has green, brown and black stripes. It has a large hood to keep his little head warm and is done up at the front with two large black shoelaces. On the front there are two multi coloured woolen patches.

With this jacket Bray wears these little grey jumpsuit pants. They are made of grey stretch cotton wtih contrast white overlocking. They have a stretch waist with a drawstring.

The little green booties at the bottom have been attached to the pants and have little red bugs on the top of each one. The bottom of the grey pants have a cuff and one each one is two little embroidered stars and a smiley face.
Bray's next outfit starts with this little long sleeved stretch in grow in a pale green. All made of one piece which makes it much easier to dress a little baby. This is worn under the multi coloured long sleeved top

The little long sleeved top is very multi-coloured. It's somewhat hippyish in looks. Each multi-coloured stripe has contrast zig zag stitching through it.
It has no cuffs and a plain neckline.

Over these two tops Bray wears this lovely little pair of dungarees.
They are bright orange in colour and made of a thin stretch denim. The pattern on them is of brown/red leaves. They have two over-shoulder straps with those cool little hook up metal things. The bottom of them is made much like other baby garments where the bottom is full open but the legs are joined together with little domes. The side of the dungarees each have two silver domes to do them up aswell.