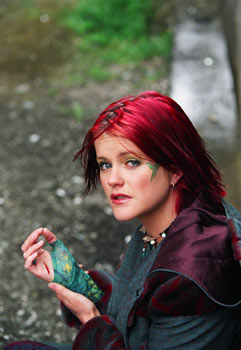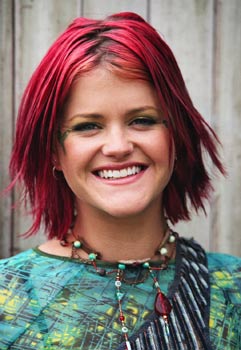 Over the next few weeks we are going to profile a few of the costumes used throughout the series. From the way they're made to why they were designed the way they were. This week is Salene's costume. Click any of the costume pictures for a larger view.
Salene seems to be a bit of a tomboy and likes her comfy trousers. Rarely seen in a dress or a skirt Salene is often dressed in layers that vary in lengths over her trousers.
Series 5 saw Salene get rough and rugged in the wastelands when she developed a dependency on alcohol. Luckily she was dressed fairly warmly for cold nights under the stars.
We like this outfit of Salene's and it looks pretty comfy and long lasting.
Made up of a pair of trousers, a top and an overtop we reckon Salene looked great in this outfit as it emphasized her long legs and slim waist.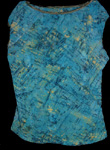 The top is made of very thin almost net material with green cotton trim around the neckline and sleeves.
A sleeveless top it has a high neckline and is tight fitting though it does have a slight stretch to the material.
Worn with removable arm pieces that stretch over the tops of the hands – great for covering up cuts that get infected.
This is worn underneath the longer overtop which is an amazing piece of clothing,
The overtop is very stretchy but is designed to hug the figure and is made of a Lycra and cotton mix.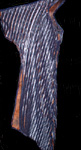 It is basically a brown piece of material in an almost batique pattern and pieces of dark grey ribbon have been sewn on an angle individually to the outside of the garment,
This gives a great texture to the top and gives a peep of the batique style material underneath when the person wearing it moves.
The top is designed to go over one shoulder and is also sleeveless with a long split down one side from under the arm all the way down to the bottom of the garment.
The trousers are ultra comfy and made of dark grey thin denim shot through with a ruby red velvet material.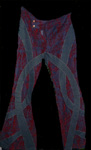 A Celtic design is stitched over the top of the trousers and is made out of dirty- wash denim stitched in yellow.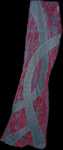 The trousers are done up with a zip but have 2 brass popper buttons to draw attention to the waist.
A bootleg cut adds definition to Salene long slim legs and the material has a slight stretch that means it is easy for her to kick butt when she wants.
Salene definitely has a style all her own and retains her femininity with jewellery, great make-up and killer high boots.