The designs of tribal makeup have been changing since the very first episode.In the beginning after the virus hit there was a need for each and every person to make a statement. It would have started with every kid realising they could do anything they wanted to their face without their parents having a say. Big and bold was the thing.

As seen on Amber (above), large dark eyes and red cheeks, you couldn't miss her. Nothing was subtle in the beginning.

Ebony

Ebony started with the bandit black mask across her eyes. The black strip through the eyes has changed over the years, different colours, bolder, brighter, softer. But always the emphasis on her eyes.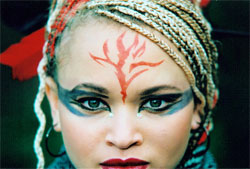 The flame started early into series 1 and it's been there ever since. Black and red have always been Ebony's colours, both in makeup and clothing.
Ebony is one tough chick and if there's one thing her whole look says it's "stay out of my way"
Lex
Lex has always kept simple lines in his makeup. The black tear lines under his eyes started right at the beginning. Both Lex and Ryan had them.
His straight forward attitude and simple style are reflected in his dark clothing and straight and wavy lines have been the fixture of his makeup style. No fancy designs, he's not a fussy guy.
Eco Style
The Eco-Tribe speak for themselves. Their attitude to nature is reflected in what they wear and the designs in the makeup.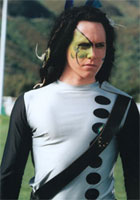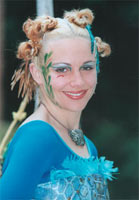 Lots of greens for fauna and flora with added touches of leaves, feathers and shell.
Their style reflects their nature loving ways and their uncluttered lifestyle while living off the earth.
Various Styles
Bray's makeup is always strong, bold and definite. He's a leader
Taisan's designs are often intricate little artworks. She's spiritual and reflective.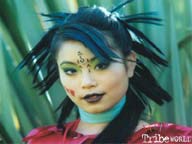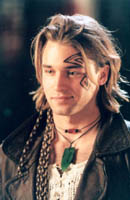 Zandra used large images like stars on her cheeks. She loves fashion and likes to make a statement.
From Salene's insecure beginnings she's grown stronger and stronger and this is reflected in both her clothing and her makeup. Salene has always had a soft look with gentle colours but her designs have become bolder.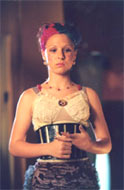 Each Mallrat has their own personality, and their own style. Their style can change over time and often reflects the point they are at in their life.
Join us in a fortnight for another look at Tribe Style…