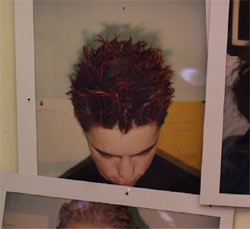 A photo of Michael's hair taken by the Makeup Dept
Makeup can say so much about someone. The way it's applied, how bold or subtle it is. In the Tribe it can often say a lot about the character wearing it.
For specific designs for a character, special stencils are made so the design can be recreated accurately every time it is applied. Below Michael Wesley Smith has his new Tribe 4 look applied.
What does this new makeup design say about Jack in Series 4? Jack has always been a pants and shirt kinda guy but in series 4 his whole look becomes quite fasionable and Jack has an air about him. Very classy!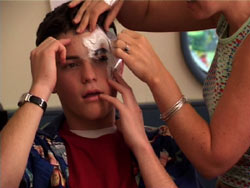 Michael getting his tribal markings applied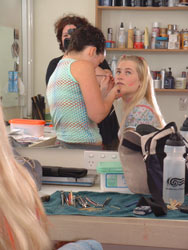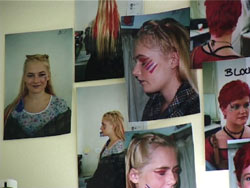 There are a lot of photos on the wall of the makeup department. They show the look of each character in each episode. Their makeup can change quite a few times during a series.
Makeup continuity pictures.
Jennyfer having her makeup applied at the studios at Cloud 9
The makeup department is not just about makeup. They also do hair!! Below Kelly Stevenson gets her hair dyed. Special dyes are used and they are re-applied every few weeks.
There are some very complicated hairstyles in The Tribe but the makeup artists whip them up in a flash.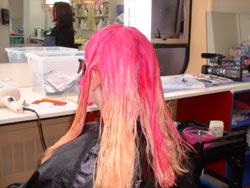 Kelly Stevenson having her hair dyed for Series 4
Meryl/Ebony's makeup has been similar throughout each series. She is well known for the flame design on her forehead and the band across her eyes. In series 4 her eyeband colour changes again, sometimes purple sometimes a bluey grey. She has dark eyeliner around the entire eye and two sequins placed on either side of the bridge of her nose. All these small details are charted on a sketch so that nothing is forgotten each time the makeup is applied.
| | |
| --- | --- |
| | |
| Ebony's trademark makeup. | A makeup chart applied with every possible detail for the face of Ebony |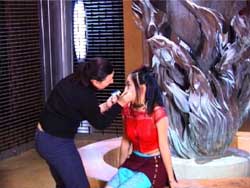 Michelle Ang getting a "touch up" before the cameras start rolling again.
Lots of natural things are used as part of the overall look. Feathers, plaits, plant material etc. The designs of the markings date back to tribal times – the Inca's and American Indians and each characters makeup reflects the character themself.
So what does their makeup reveal about their character?
The Loco's wore very harsh makeup. They had sharp and vigourous designs which showed them to be viscious. All the Loco's had the same makeup (the red scribble) which would alert everyone to which tribe they were in. Makeup and design is certainly an identity mark for certain tribes.
Ebony's band across her eyes gives her the bandit look we are all familiar with but since series 1 this has softened. But has Ebony softened?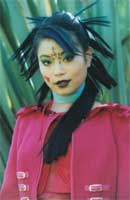 Taisan's makeup is often very bright and mystical. She wears a lot of blues and reds and her eyes are made very prominent.
Lex often has the sad clown look. The black lines under the eyes that make him look vulnerable.
Pride has more more indian type markings that reflect his affinity with nature. His dreadlocked hair a natural way of "keeping" hair.
Bray has strong markings suggesting leadership. They are strong and bold and reflect Bray's masculinity.