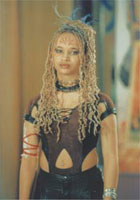 All the cast of the Tribe have very 'different' hair colours and styles. One of the most well known of the Tribal characters is Ebony with her distinctive braided hair.
Ebony's hair is always braided but she gets to have different colours put through and she has had some amazing styles.
We interviewed Meryl Cassie to get the low down on her trademark hair.
Nicely curled braids. How do they get like this? With perming solution!
How long have you had your braids for?
I've had my hair braided now for about seven years on and off!!!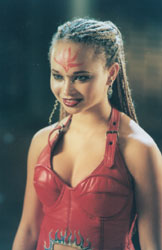 How many of your family have their hair braided?
My Mum has her hair braided (occasionally) as have my 2 sisters and a niece. 5 of usincluding myself. And cousins, friends, Auntie's, they've all tried it. It's a family thing!
Is there a store where you get them done? Who does them?
My Mum does them. She has 3 of her own hair-braiding studios in New Zealand.
A nice and natural slicked back look for Ebony.
What are the braids actually made of?
The fibre (extensions) are made out of nylon.
How long does it take to get your hair braided?
It usually takes 3-4 hours (depending on our moods) ha ha.
What is the process of attaching the braids?
The colours are chosen and are then plaited in to the natural hair. The ends are burnt to stop them from unwrapping themselves.
| | | | |
| --- | --- | --- | --- |
| curled and coloured | A glamorous look | Some loose strands | Hair piled high |
How often do you need your braids touched up or re-done?
When we're filming I get them re-done once a month. Otherwise it's once every 2-3 months.
What are the different styles of braids available?
There are loads – corn braids, twists, wraps, braids, curly braids, curled ends, dread, etc.
| | |
| --- | --- |
| Swept back and serious | Ready to fight? |
| Watch out! | This girl means business |
Do you ever not have you hair braided?
Yes (during breaks in production), but then I miss them, I hate brushing my hair.It's quite long naturally.
Is there some history behind the braids?
Yes they come from African heritage. Those with tight curls prefer the braids for beauty, maintenance and culture.
Do you choose the colours you have in them or is this controlled by Cloud 9?
I get to choose most times, which is cool. But sometimees Cloud 9 want us to change colours too, which is great! A variety always helps.
Meryl says…
"Get your hair braided! You guys and girls will love it. It looks cool, it's easy to handle, there's loads you can do with it!!! Try it. I hope you like it".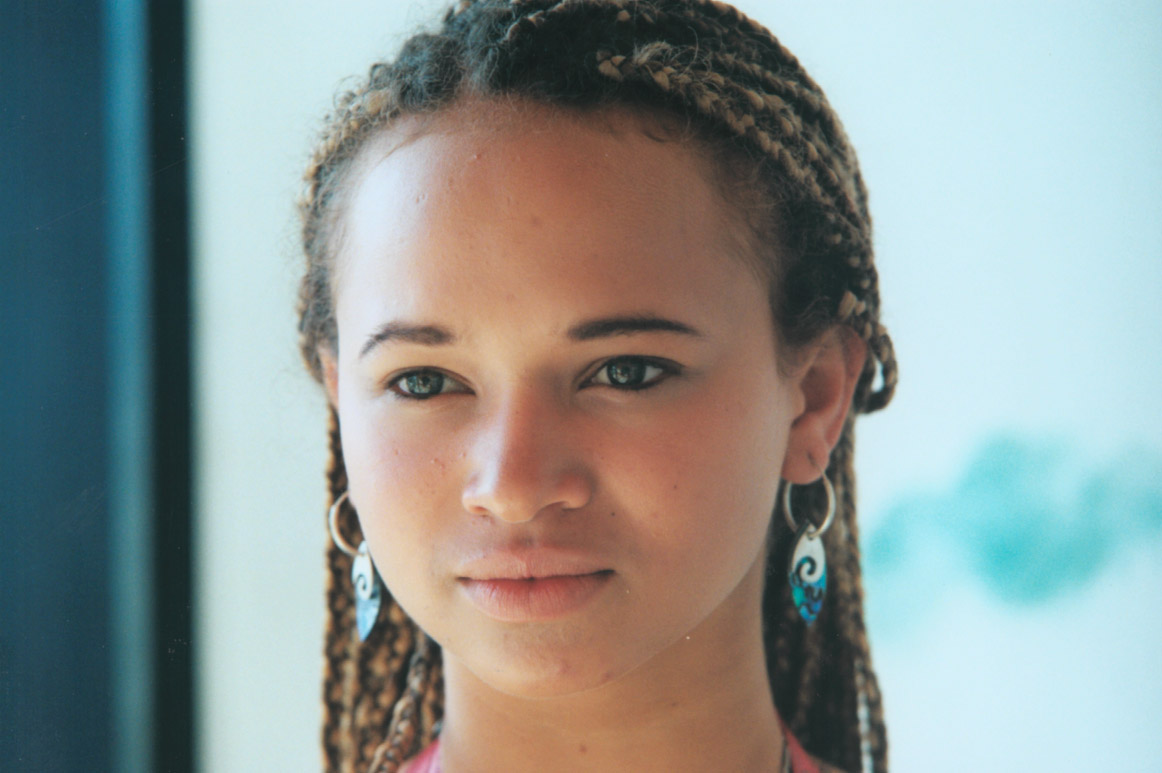 Meryl Cassie with the braids she loves so much!
We can't imagine Ebony without braids. They are a part of her character. They are an extension and expression of her spirit and individuality. She can wear them loose and natural or pile them high on her head in a warrior queen style.
However Ebony wears her braids they look great and we hope you enjoy copying some of her styles if you ever get braids yourself.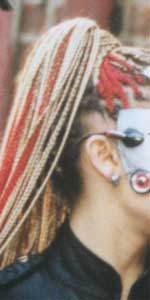 Is this the Ebony we know and love?