This week we will take a look at Tribal Celebration and Thanksgiving Styles.
There is not too much to celebrate in the world of The Tribe because every day is a struggle for safety, food and shelter.
However there have been some fun times and reasons to get together and celebrate life.
Events that we might not consider worth celebrating take on a whole new meaning in a world where there is not much to enjoy.
There have been weddings and picnics, surprise birthday parties and dances. There have even been rat races! There have been meal times where all the Mall Rats have been able to sit around the table together.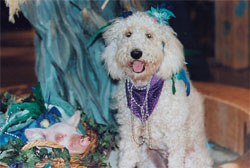 The animals get to dress up too when there is a celebration!
The biggest celebrations so far would have to be when members of the Mall Rats got married. Lex has been married twice and the second wedding was a larger event as it was a double wedding. This was a real thanksgiving occassion for Lex.
He had managed to find love again in the form of Tai San after the death of his beloved first wife, Zandra.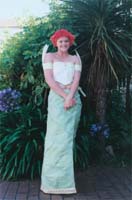 Salene in her beautiful wedding outfit
Ryan and Salene were over the moon on their wedding day and were glad to be able to celebrate with their loved ones all around them.
There have been other celebratory events in Tribe life. Alice and Ned enjoyed a day to themselves when they packed a picnic and spent a romantic day by the river. This was a day of private thanksgiving for having been lucky enough to find each other in an unsafe and unkind world.
Some of the Mall Rats enjoyed a dance party and made the most of the opportunity to dress up for a night to remember.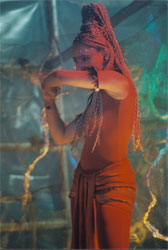 Ebony parties hard
The dance party was a huge event and many different tribes turned out to enjoy an evening of festivities.
Of course there have been other celebratory experiences for the cast of The Tribe in their promotional work.
There have been music videos and photo shoots as well as trailers made for various television stations.
The Mall Rats themselves could only dream of being able to celebrate in such a fashion.
Perhaps the day will soon be here when the inhabitants of Tribeworld really have something big to celebrate and give thanks for?
Here is a little look at some of your favourite Tribal characters as you might not have seen them before!
| | |
| --- | --- |
| Lex enjoys the waves | Bray chills out at the beach |
| Bring on the Fruit Punch! | Everybody loves Brady! |
| Zoot and Trudy enjoy a dance | Trudy gives thanks |
And so it seems that there are many Tribal ways of giving thanks and celebrating. The style of the Tribal members remains as colourful and varied as ever as each individual expresses his or her individuality.
The styles seem to become more intense according to the event, often appearing to be more wild and intense when there is reason to celebrate.