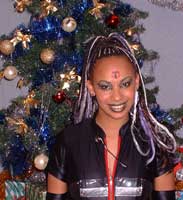 Christmas is a time for families and friends to get together and celebrate. This festive holiday has not been celebrated in the world of The Tribe, since the virus took all the adults away (although there is a fictional story in pre-Tribe).
Although religion has stayed in the hearts and minds of the kids of the Tribe it comes out in different ways.
Tai San is very spiritual, Pride is elemental and the Guardian follows Zoot. Bray, Amber and Salene are perhaps the most typically 'Christian' people of the whole gang because they help other people more or less unconditionally and are generally more concerned with other peoples' welfare than their own.
Perhaps Christmas has not been celebrated since the virus because religion has fallen by the wayside somewhat with the kids looking in to themselves to find the strength, morals and spirituality needed to go on?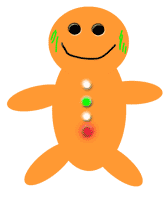 Perhaps it has not been celebrated because the inhabitants of Tribe world do not feel that it is right to celebrate?
Perhaps there are too many painful memories associated with this festive occassion?Maybe they feel let down by God because of the virus and its effects on the human race and life as they knew it?
But what if the Tribe did celebrate Christmas? Would they celebrate in the traditional way or would they alter the festivities to suit life in this harsh new world?
How would they dress? Would they make Santa hats and dress up on Christmas Day in all their finery?
All we know is that at other special occassions the Tribe do dress up in their glad rags.
They pull out all the stops when they go to parties and gatherings. Hair is made to look even more wild than ever, make-up is applied to grab attention and the clothes are also designed to make other people look!
How would different characters in the Tribe celebrate Christmas?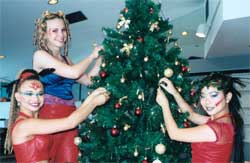 Christmas presents
Lex would be likely to give somebody something that would benefit him somehow.
Bray would put a lot of thought in to what he would give his l'amour and would want it to be something meaningful and special.
Pride would give something that is both meaningful and useful, most likely something from the land.
The Guardian would give a copy of a speech that Zoot had made.
Tai San would give a crystal or something spiritual.
Ebony would give a kiss under the mistletoe to somebody else's man!
Salene would give something to the children.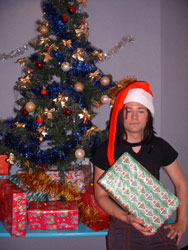 Christmas food
Lex would be the first at the table and the first to pick all the best munchies.
Bray would give an inspirational speech to pull the group together and to make them appreciate the food that they were about to eat.
Pride would contribute a nutroast or some wild berries and would steer clear of any turkey.
The Guardian would not become involved because he would think that decadence would be wrong in the eyes of Zoot.
Tai San would bless the food with her crystals before it was eaten.
Ebony would try to get someone else to try her food first in case it was poisoned.
Salene would help to prepare the meal and would make sure that everyone else was served (particularly the children) before she helped herself.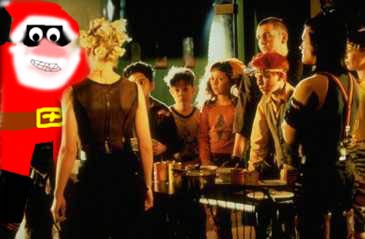 Christmas Clothes
Lex would wear black and possibly put on a Santa hat if he had drunk enough wine.
Bray would join in the fun by wearing some tinsel in his braids.
Pride would wear something natural like a holly and ivy garland.
The Guardian would not participate and would wear his usual white Zooty outfit.
Tai San would wear something natural in her hair, probably something that had healing or spiritual powers.
Ebony would dress to kill and would wear something bright red and revealing to grab the attention of the men around the table.
Salene would get involved fully and would probably dress up as Mrs.Claus!
How would Santa be if he was still around in the world of the Tribe?
It is doubtful that Santa would have eluded the virus but let's face it, he does have magical mystical powers and might have survived, hidden away in his North Pole warehouse.
If Santa had survived, chances are that he would have altered his llifestyle to suit the harsh reality of life in the world of the Tribe.
Perhaps he would have ditched his red cossie and gone for something more Tribal? Leathers and feathers maybe? A bright orange beard instead of his white one? Safety pins instead of jingle bells? Tribal make-up and markings?
The thought that we will leave you with is this … would Santa drive his sleigh or would he ride on a skateboard?
Whatever you think, we wish you all a very Tribal Christmas!