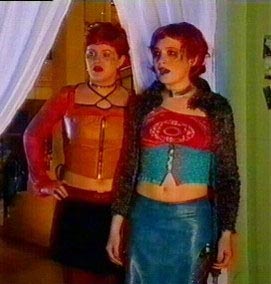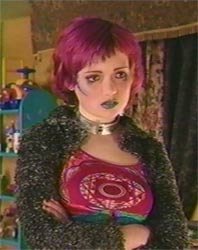 Over the next few weeks we are profiling a few of the costumes used throughout the series'. From the way they're made to why they were designed the way they were. This week is Trudy's Tribe 4 costume. Click any of the costume pictures for a larger view.
Trudy has been through many dramas since the virus and many different costumes which reflect her life at that time.
Trudy wasn't around too much during series 4 and spent a lot of time at the Eco's camp in the forest. But this costume was very styly and we had to show it to you close up even though it only lasted a few episodes.

This top is made of a stretchy aqua colour lacey fabric. This makes up the main body of te top. Then there is a front panel across the chest in patterned red/pink stretch cotton. It has different types of patterns on it but has a tie-dye feel to it.
The neckline is slanted and starts at the top right shoulder and finishes lower down on the left hand side – as with a lot of the Tribe Costumes there are asymmetical lines.

The sleeves are slightly flared at the end and at the elbows there are panels repeated in the pink/red stretch cotton.
The front is little different in that it is split up the front middle to just below the bust. There are four little metal hooks that do this split up.
The back of the top is the same as the front but the red/pink fabric has a different design.

Trudy's skirt is quite unique – the see through parts down each side are made of plastic, a bit like a heavy plastic shower curtain. They have all sorts of printed butterflies down each side. Sewn through the middle of the skirt is a blue snakeskin vinyl which is sewn in a curve to slimline the waist.
It does up at the back with a short zip.

Over her top Trudy wears this grey jacket. I've heard this type of fabric described as "boucle" before. It is basically a stretchy black layer through which this silvery/grey fluff has been threaded.
The jacket goes over the shoulders but the sides end just under the arms so it's not supposed to do up but just to drape down the back. It's almost like a cape with sleeves. It does have a collar however which can either be worn undone or it can be secured around the neck with three metal hooks like those used on the top.
With this costume Trudy wore a rather cumbersome maroon jacket with fluffy sleeves. Fortunately or unfortunately (however you look at it) we weren't able to find it to profile in this tribestyle.