What style of music do they like?
Find out below…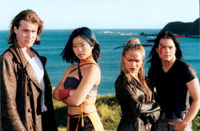 What is your favourite song on the album? and What do you think its about?
Antonia:
This is the Place
Lost love and remembering the good times.
Meryl:
You Belong to Me and The Dream Must Stay Alive No. 1 – a love song about two who love each others company and the way they treat each other. No.2 – about the future and to always believe.
Michelle:
Beep Beep
Just teenager cruisin and having good times…."we'll all be living it up…lets party!"
Dwayne:
Spinning Around
Well because I didn't have a lot to do with the production of this song, I don't really know what its about. I haven't actually heard it that much – thats probably why I like it so much.
Victoria:
Beep Beep
Just teens partying along.
Jennyfer:
You Belong to Me
Its just a happy poppy love song, no deep meanings.
Ari:
Abadeo
It's about a guy who finds someone he really likes.
Did you have fun producing the album?
Antonia: So much fun! It was an incredible experience.
Meryl: So much fun it isn't funny. I could sing all day long.
Michelle: Yep.
Dwayne: Yes, it was something I had never done before. It was great!
Victoria: Heaps of fun being in the studio.
Jennyfer: Yep.
Ari: Yes it was heaps of fun.
What has been the highlight?
Antonia: Just being part of the team and working with amazing, talented and passionate people.
Meryl: Everything, singing the songs the whole experience has just been great!!
Michelle: The whole thing has been great. From listening to the raw ideas following through to the finished mixed version.
Dwayne: I think it would have to be signing my first CD cover in a music store!
Victoria: Hearing the final cut version.
Jennyfer: The mall performances.
Ari: Performing in front of live audiences.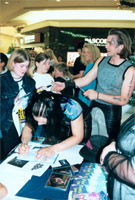 What has been the best part of performing at the Malls?
Antonia: The buzz you get when the crowd is really responsive and gives you heaps of support.
Meryl: Seeing people's reactions (they love it) dancing along with us makes it better.
Michelle: Getting the adrenalin rush before you go on and just dancing, I love dancing!!
Dwayne: Seeing the fantastic reaction from the crowds!
Victoria: Seeing everyone singing along to the songs.
Jennyfer: Meeting all the people, watching all the cute little kids who are too scared to ask Meryl for her autograph because Ebony scares them. Ari: Just the performing in general I suppose.
And other Music???
What type of music do you listen to?
Antonia: Pretty much anything really – except Michael Bolton! Hate Michael Bolton.
Meryl: R & B, Rhythm & Blues, Hip Hop, slowjams etc. I love everything from boppy stuff like Britney Spears and 5ve to Massive Attack to Blink 182 and Limp Bizkit!! Don't go for the country and western stuff though.
Dwayne: Anything good but it has to be really good, Radiohead, U2, Madonna, Propellor Heads, Dusty Spring, Fatboy Slim, I know these are big commercial groups but they get that big for a reason.
Jennyfer: Alternative, rock, some pop songs.
Ari: Limp Bizkit, Kid Rock, and bands like that. And Cat Stevens.
Are you influenced by any bands/musicians/performers?
Antonia: No not really. I generally try to rely on my own judgement and intuition then I make decisions.
Meryl: Ooh yes. Whitney Houston is my idol, Mariah Carey, Christina Aguilera, Brandy etc.
Michelle Ang: I think Madonna is amazing. The way she has changed her image so many times. And the way she is so in control of her music. Dwayne: Yeah – all of the above and a few more. They can really get me thinking.
Victoria: Not really but I like songs with meaning like Creed.
Jennyfer: Yes. Anyone who does what they do to teach or just cos they love it!
Ari: No, not really.
Who is your most favourite musician (only one)?
Antonia: The Verve (does a band count?)
Meryl: That's hard! I have to admit, my brother is awesome! I have too many.
Michelle: Madonna
Dwayne: Damn!! The child of Madonna and Bono.
Victoria: Afgon Whiggs
Jennyfer: My mates band Permafrost.
Ari: Cat Stevens
Is your family musical?
Antonia: Yeah, pretty musical except my Dad who still struggles to sing in tune!
Meryl: Oooh, most definitely! My brother is a music composer and piano player and me and my sisters love singing and dancing. Mum loves to sing too. And she's good!!
Michelle: Kind of. My sister is amazing – she sings like a bird and plays flute and piano amazingly!! Mum is only a shower singer though. Dwayne: A little.
Victoria: Very. All my family sings and my Dad plays piano. Jennyfer: Not really
Ari: I would say only me and my sister Ruth are.
Do you play an instrument?
Antonia: In the past I've played the piano, flute and guitar and at school I take performance music and for that I sing!
Meryl: I try to have a go at the guitar (I'm getting there) and a few simple tunes on the piano.
Michelle: I'd like to think I could play the drums… but nah!! Not really. I used to play the violin.
Dwayne: No. I learnt the violin once. My little brother is an incredible pianist!!!
Victoria: I'm not musically talented at all.
Jennyfer: Yep, piano, voice, and recorder.
Ari: I play the bass guitar and I used to play piano.