Zandra is a fashion junkie, who spends most of her time gossiping or experimenting with different makeup and designer clothes. She lives in her own fantasy world, avoiding the harsh realities of the world around her. She is very resentful at having to help with chores, which might spoil her nail varnish. But at heart, she is kind and so avoids being shunned by the other girls, who can be exasperated by Zandra's vanity and self-absorption. She is besotted by Lex, and is unable to see his obvious failings.
Zandra's hair is split down the middle with blue and pink on either side – although this is only the top layer of hair. Underneath she keeps her natural colour.
In making this hairstyle the hair is divided through the colour and twisted up at the back – it is actually split into four sections. Zandra's hair has natual curls towards the ends and once it is pinned in place these curls are ruffled up with some wax.
At the front the hair is again divided and smoothed flat on each side and tucked behind the ears. A blue moth hair clip is secured on the blue side and a pink moth on the pink side.
Zandra's hair has to be bleached before it is dyed so that the colour lasts. Paintbox Pink Flamingo and Blue Hawaii are the colours used in her hair. Each colour is put on for 30min with the blue going on first as it needs that little bit longer to grab.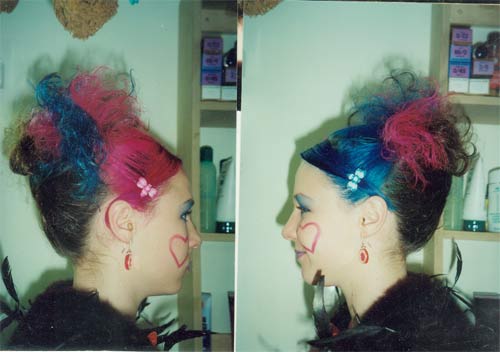 Zandra's eyebrows are filled in and blue eye pencil is used to define her eyes and to outline the eyeshadow. The pink hearts on her cheeks are applied by stencil. Her lipstick is a light purple shade and her lips are lined in pink.