The beginning of the new Tribeworld.com!
Today marks the official reactivation of a new version of Tribeworld.com and we hope visitors will enjoy their experience on the site.
The approach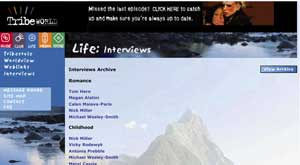 There was much discussion and thought among the team as to the approach that we would take for Tribeworld.  Ray was very keen to maintain the Tribe heritage and so we had to live within a very tight brief.  The previous site had several thousand pages, images, hundreds of items of audio and video content.  We didn't want to lose anything of before because it represents the heritage of The Tribe and we believe still has much to offer for fans, old and new, interested in finding out more about The Tribe on and off-screen.  We also wanted to work out what we thought would be the best way to bring exciting new Tribe content to Tribeworld for the future.
Drupal.  Joomla.  ASP.  PHP.  Mambo.  Wordpress.  Cold Fusion.  Good old HTML.  Database driven.  Flash…
We looked at many different formats to power the site and in the end thought it best to keep it all simple and standards based.  With screens getting bigger on one hand (with some visitors on wide flatscreen desktops or living room displays), many on laptops and netbooks of all sizes, and other screens getting smaller on the other hand (for those with iphones, Android, Ipad, Ipod touches, tablets) we felt keeping it all simple and standardised would help in experiencing Tribeworld.com on all manner of devices.
So what is different?
So as not to lose the heritage and content from the past, the new Tribeworld has all the content from the old site but experienced in a different way, and will have lots of new content in the future…
Tags/Categories
As you'll see, at the end of each post in the new Tribeworld are tags and categories, inspired by the familiar blogging type format.  Want to see everything to do with Amber?   You can follow a trail of Amber or particular character marked by its tag or category and find all the content marked as Amber, plus there are 'next' and 'previous' links to follow at the top and bottom of each page.
We've got search
The new Tribeworld will have a built in search engine on each page to help find what you are looking for.  We hope to introduce an even better search engine in the near future once everything is indexed which will make finding the exact article or photo you are looking for that much easier.
The related Tribe family
At the end of each post, the database driven aspect of the new Tribeworld will bring up some related articles or content so if you wanted to check out Lex's style, for example, then hopefully related articles and pictures to do with Lex and style will show up (if instead it is suggested you follow an article on ice cream or a dancing banana… then we'll know there's some gremlins need fixing in the system!). 😳 😯
The social network
Each post in the new Tribeworld should have at the end of it clickable links to Facebook, Twitter, Tumblr, and other popular social networking sites so it is easier to share content and links to Tribeworld.  Show that you care by a share! 😛
Picture This

There are hundreds of wallpapers and thousands of images from the heritage old Tribeworld viewable on the new Tribeworld in a different way with image galleries (and in time, through tagable or named searches).
But that's not all!  The new version Tribeworld in future is going to be showing some new higher quality and larger images of all our favourite Tribe cast and characters, plus some behind the scenes moments, so it should look great on screens big and small at different resolutions.  Watch this space!
Video and Audio
All of the heritage (predominantly initial Quicktime version) audio and video content from the old Tribeworld site is going to be given a fresh overhaul in future and gradually replaced by higher audio and visual quality official YouTube versions so in the future it will look great for those viewing in Flash or HTML 5 and on different devices.
Plus there's going to be lots of new never before seen audio and video content from series 1-5 of The Tribe and documentary featurettes coming soon!
New content
Initially, the new format Tribeworld has much content from the old Tribeworld… but over time, there's going to be additional new content added covering the new Tribe novel book releases planned for 2011, soundtrack music album releases, development of the Tribe movie.
So today is in many ways an ending (of the old Tribeworld). 😮 🙁
But it is also a beginning… the first step in the new Tribeworld.  The future.
The site is going to evolve and change over time.  Grow.  Get even bigger.
New content and new features will be added.
We hope you enjoy visiting, experiencing Tribeworld.
No doubt we might experience some teething problems in these very early stages but please bear with us and we will fix up as we go along with the aim of having the archived heritage site very much intact charting the Tribe history from day 1.
And a framework for the future in place as we go forward, which will be updated on a regular basis (not daily though so that we can keep some hours in the day available to do all the other things which we have to do! 🙂 )
Thank you for your support! <3
Keep the dream alive!
The Tribe web team