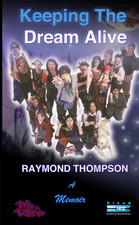 Calling all owners of iPhones, iPads and iPod Touches!  The behind the scenes story of The Tribe, 'Keeping The Dream Alive' by Raymond Thompson (Executive Producer and creator), is now available as an eBook on Apple's iTunes stores around the world!
The book tells of what went into the making of The Tribe – its origins, the inspiration, as well as reveals some behind the scenes info about how the series was made – a must for any fan!
The book can also be ordered as a paperback book direct from Tribeworld or from a range of other online and retail book stores (and other online eBook outlets such as Kindle)!